The Oakland Post 2009-01-07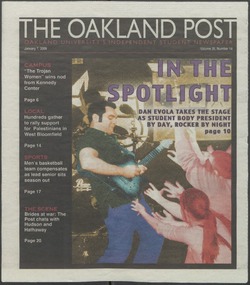 Author
---
Contributor
---
Wojcik, Lindsey
Miller, Colleen
Alexander, Dustin
Bartman, Stacie
Meade, Amanda
Purcell, Jared
Rahman, Masudur
Rath, Tim
Jacob, Katie
Garner, Sean
McCarty, Rory
Murphy, Tom, Jr.
Guzman, Joe
Williams, Janice
Williams, Jeanette
Quandt, Kathleen
Sanders, David
Slazinski, Brad
Gardner, John
Lang, Sarah
Field, Jillian
St. Germain, Steve
Lapanowski, Mallory
Brown, Tom
Description
---
In the Spotlight ; THIS WEEK 1.7.09 ; STAFF EDITORIAL Hills is shooting deer in the dark ; Editor ditches the old standards for validation ; An encore of 'The Trojan Women' ; Campus events to fill the time between classes (instead of sitting in the car) ; Take a SMART route to Rochester: Funding options being explored for bus route to service local area ; Approved deer cull will not affect campus ; A royal connection ; Disposed dining to be donated by Chartwells: Food contractor combats hunger with students' food waste ; POLICE FILES ; New president rocks 89X show ; OUSC's new makeup ; Have you ever kept a New Year's resolution? ; Would you rather - Live in 2009 or a different time period? ; Gaza protest draws 500 ; "Another Skokie?" ; Ford; Toyota plunges ; In case you missed them: The Golden Grizzlies continue to play with the classrooms empty ; Men's Basketball ; Swimming and Diving ; NOTABLE NUMBERS ; Indoor Track & Field ; Women's Basketball ; Injury sidelines Nelson for season ; Golden Grizzlies Game of the Week: WOMEN'S BASKETBALL OU wears out NDSU enroute to big victory ; Attack of the bridezillas ; Tired of the same old reruns?: Tune in to these shows as they begin their new seasons ; "Scrubs" ; Hoping for change in 2009 ; Resolutions for the new year that should be on these celebrities' lists ; Diplomacy pushed for Mideast peace ; NEW BRIEFS ; Mushing through the snow ; Alaska trooper says politics slowed drug arrest ; Toyota to suspend Japan production in Feb. and March
Date
---
2009-01-07
Subject
---
Oakland University. College of Arts and Sciences. School of Music, Theatre and Dance
University business partnerships
Royal Park Hotel
Food service
Oakland University. Student Congress
Rights
---
Users assume all responsibility for questions of copyright, invasion of privacy, and rights of publicity that may arise in using reproductions from the library's collections.
Collections
---