The Oakland Post 2008-11-05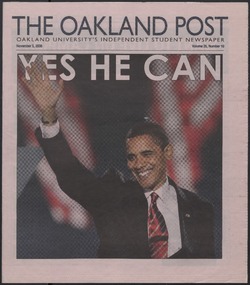 Author
---
Contributor
---
Wojcik, Lindsey
Degel, Nick
Alexander, Dustin
Bartman, Stacie
Garner, Sean
Gully, Paul
Meade, Amanda
Purcell, Jared
Rath, Tim
Jacob, Katie
Miller, Colleen
McCarty, Rory
Murphy, Tom, Jr.
Rahman, Masudur
Latshaw, Shelly
Ament, Lina
Quandt, Kathleen
Sanders, David
Smiley, Wendell
Gardner, John
Lang, Sarah
Field, Jillian
St. Germain, Steve
Lapanowski, Mallory
Brown, Tom
Description
---
Yes He Can ; THIS WEEK ; STAFF EDITORIAL Chauncey Billups should have retired as Detroit's 'big shot' ; Noisy wheels get the grease in local government ; Fighting off the winter blues; part 1 ; Bringing on the Change ; OU students react ; Election briefs for Michigan districts; proposals: Proposal 1 passes ; Halloween goes green at OU ; Russi and Campus Rec awarded ; Best of POLICE FILES Fall 2008 ; OUSC combines Halloween with civics ; OU students to attend inauguration ; Voters flock to booths: Young and old stand together for a chance to vote for history ; Economy; competition closes local shop ; What's your favorite brand of cereal? ; Breakfast; lunch and dinner: What breakfast food could you eat any time of the day? ; What's your favorite cereal slogan? ; Done with the sickness: The simplest steps can be the best ways to avoid a virus this year ; Finals destination: Get ready for the end ; Focus on freshmen: Jones bringing passion ; Ecker gains mental toughness ; Lynch prepares for last shot ; Scores from the road ; POST GAME ; GRIZZ OF THE WEEEK: Amy Golem Volleyball ; Golden Grizzlies Game of the Week: WOMEN'S SWIMMING AND DIVING OU falls to Houston but finishes strong ; Gov't Mule: last of a dying breed? ; 'Twilight' star shines ; Entertainment tonight: What the political season brought us ; What happened the morning after Halloween ; Iran parliament impeach Ahmadinejad ally ; Taiwan; China envoys sign historic trade pact ; N W BRIEFS ; Americans take to the polls ; Wall Street prepares to stage Election Day comeback
Date
---
2008-11-05
Subject
---
Presidential elections
Politics
Russi, Gary
Awards
Oakland University. Student Congress
Rights
---
Users assume all responsibility for questions of copyright, invasion of privacy, and rights of publicity that may arise in using reproductions from the library's collections.
Collections
---