The Oakland Post 2008-10-22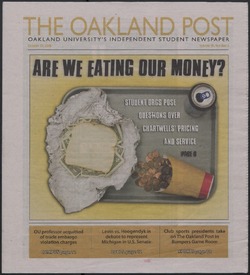 Author
---
Contributor
---
Wojcik, Lindsey
Degel, Nick
Alexander, Dustin
Bartman, Stacie
Garner, Sean
Gully, Paul
Meade, Amanda
Purcell, Jared
Rath, Tim
Jacob, Katie
Miller, Colleen
McCarty, Rory
Murphy, Tom, Jr.
Rahman, Masudur
Latshaw, Shelly
Ament, Lina
Quandt, Kathleen
Sanders, David
Smiley, Wendell
Gardner, John
Lang, Sarah
Field, Jillian
St. Germain, Steve
Lapanowski, Mallory
Brown, Tom
Description
---
Are We Eating Our Money? Student Orgs Pose Questions Over Chartwells' Pricing and Service ; THIS WEEK ; STAFF EDITORIAL Let Chartwells know you mean business ; New ways of looking at the economic crisis ; STUDENT LIFE WEEKLY HOT TOPIC Karen Clemmons-Lloyd Assistant Dean of Students: Think before you cheat ; Chartwells focus of OUSC meeting ; Students organizations raise issues with lone OU food provider's prices; service ; No homecoming; no problem ; OU troupe to give audience a 'Nightmare' ; OU fraternity founded on tolerance ; New greek community opposed to hazing; not focused on wealth ; POLICE FILES ; Congressional candidates debate policies at OU ; Upcoming election events on campus ; Romanticism alive at Oakland ; OU professor acquitted: Sister convicted; facing up to 20 years in prison ; Senate debate in Detroit: Levin; Hoogendyk face questions from audience in U.S. Senate debate ; NEWS BRIEFS ; "Buddy'ing up with Oakland ; Mural at Buddy's acknowledges OU ; Begging for candy: Are you ever too old to go trick or treating? ; Time to dress-up ; What was your best Halloween costume? ; Putting the 'car' in care: OU students share what they think about their vehicles ; Heroics in club sports ; Stevens; Brandon; Glowacz thrive despite difficult situations ; Grizzlies inspired by Series ; Runners seeking redemption: MacDonald fights adversity with help from cross country team ; Midnite Madnezz rocks O'rena ; A taste of local and global brews: REVIEW ; Step up your Halloween get-up ; Spilling the juice on gossip ; Kerkorian sells off Ford shares ; Former Thailand Prime Minister guilty of corruption ; N W BRIEFS ; Turkey tries 86 for conspiracy ; Russia; Iran; Qatar discuss OPEC-style gas cartel
Date
---
2008-10-22
Subject
---
Oakland University. Student Congress
Food service
Weekend of Champions
Fraternities
Politics
Rights
---
Users assume all responsibility for questions of copyright, invasion of privacy, and rights of publicity that may arise in using reproductions from the library's collections.
Collections
---