The Oakland Post 2008-10-08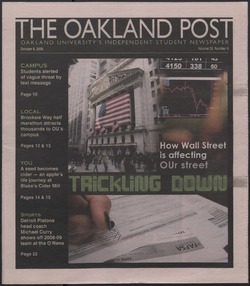 Author
---
Contributor
---
Wojcik, Lindsey
Degel, Nick
Alexander, Dustin
Bartman, Stacie
Garner, Sean
Gully, Paul
Meade, Amanda
Purcell, Jared
Rath, Tim
Jacob, Katie
Miller, Colleen
McCarty, Rory
Murphy, Tom, Jr.
Rahman, Masudur
Latshaw, Shelly
Ament, Lina
Quandt, Kathleen
Sanders, David
Smiley, Wendell
Gardner, John
Lang, Sarah
Field, Jillian
St. Germain, Steve
Lapanowski, Mallory
Brown, Tom
Description
---
Trickling Down: How Wall Street is affecting OUr street ; THIS WEEK 10.8.08 ; STAFF EDITORIAL Students are not free to ignore market woes ; Things you need to know about the flu vaccine ; STUDENT LIFE WEEKLY: Asperger's syndrome HOT TOPIC ; Plunging toward rock bottom: Making sense of things can be hard as economic downturns hit close to home for students; families and university funding ; The Bailout Breakdown ; Res halls to be watched: OUPD: Security cameras are part of residence hall safety ; Day of retreat for those with autism ; POLICE FILES ; Oakland gets $40 million from state ; OU to use state money for building for Health Science; Nursing ; Threat in bathroom lead to first usage of OUPD text messaging alert system ; Coming Out ; Chaldeans discuss Assyrian persecution ; Entrepreneurship minor open to students of all majors: New program teaches students how to run their own business ; First 'Brooksie Way' triumphs ; Thousands of area runners participate in the inagural event ; Leading the 'Way': First Brooksie Way Half Marathon - 5k run results ; Fun and food for all during the fall season ; Yates Cider Mill ready to entertain fall activity enthusiast once again ; Big life of a little apple ; AN AMERICAN HERO ; Runner finds his 'way' at race: Why run a half marathon? One student found a simple answer ; Would you consider yourself a PC or a Mac? ; This issue's photo contest winner is ; What is your favorite Internet browser? ; Following a breakdown: What happens after an Oakland athlete suffers an injury? ; Injuries Uncovered ; Golf teammates dreaming big: Golden Grizzlies Carango and McNiff plan to play professionally ; GRIZZ OF THE WEEK ; Outlined in chalk: Volleyball head coach Rob Beam captains the game ; PISTONS PRACTICE ELECTRIFIES OAKLAND ; Radio; writing; rap: 'Robo-Robb' ; Discover hidden gems of the Internet ; Complete Idiots Guide to voting: Tips on how to make an informed decision this November ; Saying goodbye to Smurfette and hola to Dora ; AIG still spending just days after bailout ; N W BRIEFS ; Lehman Brothers chief faces the music ; Unrest in Thailand as protesters blockade Parliament ; Obama; McCain clash in townhall style debate
Date
---
2008-10-08
Subject
---
Economic crisis
Residence halls
Security
OUCARES
Budget appropriations
Human Health Building
Text messaging alert systems
Brooksie Way
Rights
---
Users assume all responsibility for questions of copyright, invasion of privacy, and rights of publicity that may arise in using reproductions from the library's collections.
Collections
---