The Oakland Post 2008-10-01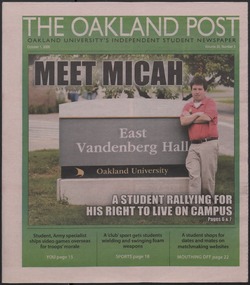 Author
---
Contributor
---
Wojcik, Lindsey
Degel, Nick
Alexander, Dustin
Bartman, Stacie
Garner, Sean
Gully, Paul
Meade, Amanda
Purcell, Jared
Rath, Tim
Jacob, Katie
Miller, Colleen
McCarty, Rory
Murphy, Tom, Jr.
Rahman, Masudur
Latshaw, Shelly
Ament, Lina
Quandt, Kathleen
Sanders, David
Smiley, Wendell
Gardner, John
Lang, Sarah
Field, Jillian
St. Germain, Steve
Lapanowski, Mallory
Brown, Tom
Description
---
Meet Micah: A Student Rallying for His Right to Live on Campus ; THIS WEEK 10.1.08 ; STAFF EDITORIAL OPTIONS a success but needs to take next step ; Beauty pageant hopes to 'bring classy back' in the OC ; STUDENT AFFAIRS WEEKLY HOT TOPIC: File Sharing ; Equality in home quarters ; Micah Fialka-Feldman is trying to overturn an OU administration policy that prohibits him from livng in any of the campus dorms or apartments ; Nursing school gets $331K ; OUSC; Secretary of State helps register voters for election ; COW sets out to Change Our World ; POLICE FILES ; A 'race' against racism: Black-white divide continues in the heart of Detroit and its suburbs ; What is your preferred method of watching movies? ; What movie are you most looking forward to being released? ; What is your favorite movie? ; I INK; THEREFORE; I AM ; Tattoos have a significant role in the lives of OU students ; Getting to know yOU: OU student builds game program for soldiers stationed overseas A series telling the stories of those who make OU unique ; Hogan's strategy shifts: Hockey coach determined to get back to championship level ; POST GAME ; GRIZZ OF THE WEEK ; Pistons to play at OU ; A club sport that uses clubs: Dagorhir unit offers medieval battles for the modern sports fan ; Golden Grizzlies Game of the Week ; MEN'S SOCCER Grizzlies outlast Western Illinois ; Playing plastic: pretend to be a rock star ; 'Rock Band' vs. 'Guitar Hero' ; Which do you prefer? ; QUICK HITS: REVIEWS IN 30 SECONDS ; The Rocket Summer @ The Crofoot ; 'Dying' guitarist talks about metal and politics ; Is Mr. Right a click away?: Match.com could have your potential soulmate: browse profiles ; Lawmakers try to revise bailout bill ; US nuclear envoy to bring proposal to North Korea ; N W BRIEFS ; Preparing for an international blast off ; Somali pirates deny shootout that allegedly left 3 dead
Date
---
2008-10-01
Subject
---
Fialka-Feldman, Micah
Oakland University. University Housing and Dining
Oakland University. School of Nursing
Grants
Oakland University. Student Congress
Politics
Race relations
Rights
---
Users assume all responsibility for questions of copyright, invasion of privacy, and rights of publicity that may arise in using reproductions from the library's collections.
Collections
---
Related items
Showing items related by title, author, creator and subject.
Oakland Sail, Inc.

(

Oakland Sail, Inc.

,

2002-10-25

)

Metro Detroit job Search: Find a better career in your own backyard

Oakland Sail, Inc.

(

Oakland Sail, Inc.

,

2002-11-08

)

Metro Detroit job Search: Find a better career in your own backyard

Oakland Sail, Inc.

(

Oakland Sail, Inc.

,

2002-11-01

)

Metro Detroit job Search: Find a better career in your own backyard