The Oakland Post 2008-09-17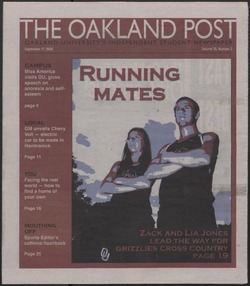 Author
---
Contributor
---
Wojcik, Lindsey
Degel, Nick
Alexander, Dustin
Bartman, Stacie
Garner, Sean
Gully, Paul
Meade, Amanda
Purcell, Jared
Rath, Tim
Jacob, Katie
Miller, Colleen
McCarty, Rory
Murphy , Tom, Jr.
Rahman, Masudur
Latshaw, Shelly
Ament, Lina
Quandt, Kathleen
Sanders, David
Smiley, Wendell
Gardner, John
Lang, Sarah
Field, Jillian
St. Germain, Steve
Lapanowski, Mallory
Brown, Tom
Description
---
Running Mates: Zack and Lia Jones Lead the Way for Grizzlies Cross Country ; THIS WEEK ; STAFF EDITORIAL Do pundits really know what's best? ; Are the lives of socialites really that interesting? ; Letter to The Oakland Post ; Miss America's message of hope: Farmington Hills-based beauty queen talks about body image ; Oakland; Macomb relationship grows ; POLICE FILES ; Food; fun; flag football for free ; Cooley; OU engage in partnership ; Givers become the needy ; Nonprofit organizations are struggling along with the economy ; CHARITY AND ECONOMY AT A GLANCE ; GM unveils electric car to be produced in Detroit ; Are female celebrities giving women a bad name?: They aren't all bad ; Has society become more accepting to gay marriage due to the influences of pop culture? ; Real life and real estate: Finding a home is a process that should not be taken lightly ; RUNNING IN THE FAMILY ; Killing time: New head coach sparks senior volleyball star to new heights ; Jumping the Starting Gun ; Golden Grizzlies Game of the Week: VOLLEYBALL Oakland falters in tough loss to BGSU ; No OU football team? No worries: Golden Grizzlies rugby hits just as hard without pads or helmets ; To steal or not to steal?: An argument over illegal music sharing ; Entertaining alternatives ; The Crofoot has your Friday night covered ; Buzzin' off coffee beans ; Palin's beauty gives her the MILVF factor in '08 ; Petraeus leaves Iraq; strategy hailed ; N W BRIEFS ; Clean up to follow Ike's distruction ; NATO chief: Russia cannot block Georgia joining NATO ; Lehman Brothers files for bankruptcy
Date
---
2008-09-17
Subject
---
Haglund, Kirsten
Macomb Community College
Community College to Oakland
Cooley Law School
Code of conduct
Student conduct
Academic conduct
Rights
---
Users assume all responsibility for questions of copyright, invasion of privacy, and rights of publicity that may arise in using reproductions from the library's collections.
Collections
---