The Oakland Post 2008-01-09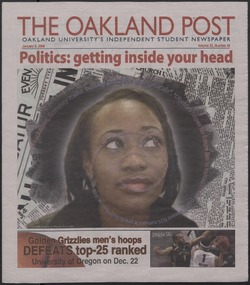 Author
---
Contributor
---
Kozlowski, Kelly
Gully, Paul
Alexander, Dustin
Franz, Samantha
Wojcik, Lindsey
Cherup, Alex
Degel, Nick
Ross, Justin
Tate, Rob
Roberts, Adam
Dunsmore, Jesse
Graski, C.M.
Ochtinsky, Brittany
Tallant, Dan
Wawrzyniak, Tracy
Bartman, Stacie
Saoud, Amanda
Llewellyn, Ian
Gardner, John
Filiatrault, Celeste
Nelson, Crystal
Vitale, Maria
Sexton, Owen
Holm, Heather
Description
---
Politics: getting inside your head: THIS WEEK ; STAFF EDITORIAL Political rat race is worth running ; Notable "news": Be the first to be talking about these campus happenings ; Nike dresses men's basketball to the nines ; Former WXOU DJ scores big gig ; OU senior Lauren Podell lands traffic reporting job at WDIV-TV ; OU on tour: Orientation group leader program seeks new faces ; POLICE FILES ; Ethics in trouble: Author David Callahan visits OU to discuss declining integrity in America ; Perfect strangers: International Allies program unites OU students ; Avoid the gym with alternative workouts: Five creative ways to stay fit and keep your body guessing ; What's your New Year's resolution? ; Great expectations: What are you looking forward to during the winter semester? ; Winter wonderland ; What's your favorite outdoor winter activity and why? ; PRESIDENTIAL PRIMARY ELECTION GUIDE: THE ISSUES ; THE SPEAK ; THIS JUST IN ; THE CANDIDATES ; Local breweries bring new tastes: REVIEW ; Johnny Depp: razor sharp in 'Sweeney Todd' ; Familiar feelings for all in 'Juno' ; 'Charlie Wilson's War'- journey of a Texas congressman to Afghanistan ; Roasted Duck; anyone?: Grizzlies knock off nationally ranked Oregon in historic win over break ; More Golden Grizzly action over break ; Club hockey starts the new year against archrival ; Men's hockey news and notes ; The ethnic grab-bag ; Who is that Mexican-Greek-Eskimo Mongolian guy? He may be a hapa ; Job security behind bars ; Clinton; McCain win in New Hampshire ; Violence; turmoil continue in Kenya ; Nation World News Briefs ; Bhutto supporters remain in mourning ; Toyota surpasses Ford as No.2 automaker
Date
---
2008-01-09
Subject
---
Kresge Library
Podell, Lauren
Orientation
International students
Men's basketball
Rights
---
Users assume all responsibility for questions of copyright, invasion of privacy, and rights of publicity that may arise in using reproductions from the library's collections.
Collections
---