The Oakland Post 2007-11-07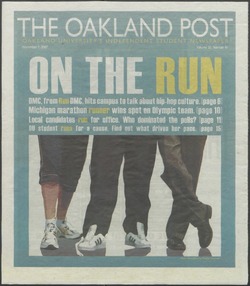 Author
---
Contributor
---
Kozlowski, Kelly
Gully, Paul
Alexander, Dustin
Perales, Liz
Franz, Samantha
Kandel, Sara
Cameron, Tyler
Cherup, Alex
Wojcik, Lindsey
Filiatrault, Celeste
Tate, Rob
Dunsmore, Jesse
Graski, C.M.
Ochtinsky, Brittany
Degel, Nick
Roberts, Adam
Tallant, Dan
Wawrzyniak, Tracy
Gardner, John
Lyons, Wendy
Nelson, Crystal
Sexton, Owen
Holm, Heather
Vitale, Maria
Description
---
ON THE RUN ; THIS WEEK 11.07.07 ; STAFF EDITORIAL Size matters - the smaller; the better ; History is our story; and greatest ally ; DMC at OU: Legendary rapper to put spotlight on evolution of rap; hip-hop ; ADDING INSPIRATION TO CAMPUS ; POLICE FILES ; Students prepare for careers: Smart! Social! Savvy! event to reveal secrets to getting hired ; Annual letter campaign to fight children's cancer: Up 'til Dawn 2007 aims to raise $90,000 for St.Jude ; Partnership with Botswana opens new doors: Oakland University to host guest students from Africa next semester ; Tragedy at Olympic trials: Michigan native collapses and dies ; MICHIGAN RUNNERS TAKE THE LEAD ; Barnett wins Rochester Hills in landslide: OU's Stein struggles in election ; Dealing with diabetes: Insulin injections are a daily routine for two OU students ; Taking on the D.C. triathlon: Senior swims; cycles and runs for a cause ; Oakland reaches peak: Golden Grizzlies sit at No. 2 seed in Summit League Tournament ; i OU closes out with 'W' ; OU melting pot: Success has come from all corners of the world for Oakland men's soccer team this season ; Kranker's late goal lifts Golden Grizzlies: Oakland overcomes second period goal rush by Central Michigan ; Wright place; wrong time: Men's and women's swim teams take down visiting Raiders ; OU blanked again ; The best of local music ; Downners ; Lee Manin Computer Arum ; The Hat Madder ; May day ; For your listening pleasure: Lyrics written in Rainbows Radiohead's new album interweaves old hits with new beautiful sounds ; Truly Charmed ; Britney's Back ; Drama with meaning ; Lies my preacher told me ; Hollywood writers hit the picket lines ; 2007 deadliest year of Iraq war for US troops ; Girl born with 8 limbs to undergo surgery ; Nation World News Briefs ; Police in Pakistan clash with protesting lawyers
Date
---
2007-11-07
Subject
---
DMC
International students
Barnett, Bryan
Rights
---
Users assume all responsibility for questions of copyright, invasion of privacy, and rights of publicity that may arise in using reproductions from the library's collections.
Collections
---