The Oakland Post 2007-10-03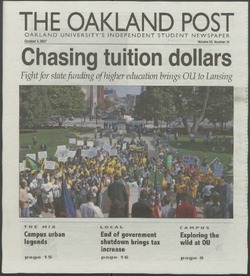 Author
---
Contributor
---
Kozlowski, Kelly
Gully, Paul
Alexander, Dustin
Perales, Liz
Franz, Samantha
Kandel, Sara
Cameron, Tyler
Cherup, Alex
Lyons, Wendy
Wojcik, Lindsey
Filiatrault, Celeste
Tate, Rob
Dunsmore, Jesse
Graski, C.M.
Ochtinsky, Brittany
Degel, Nick
Roberts, Adam
Tallant, Dan
Wawrzyniak, Tracy
Nelson, Crystal
Sexton, Owen
Holm, Heather
Vitale, Maria
Description
---
Chasing tuition dollars: Fight for state funding of higher education brings OU to Lansing ; THIS WEEK 10.03.07 ; 14 Michigan universities rally for funding in Lansing ; STAFF EDITORIAL Free; fun; and right here - why not check out OU sports? ; University nurtures nature: Preserves provide research opportunities ; HIDEAWAY HOME: Couple shares OU land; wildlife ; University amps up its security: In wake of campus shootings; OUPD works to keep school safe ; Mayor of Rochester Hills kicks off leadership series ; OU alumnus shares keys to success ; POLICE FILES ; Burke lecture series to host Peter Singer ; Not another 'B' flick: The buzz on Jerry Seinfeld's new movie ; Foo album offers variety and quality ; Do you know the 'Woodie?' ; Exploring the calm of commotion ; Campus Legends ; Government shutdown ends; taxes rise ; Local coffeehouse chain to change name to Biggby's ; The great divide ; Defending club hockey champs open season 1-1 ; Sebby strikes again: Oakland Soccer loses to Michigan; wins conference opener ; St. Louis to re-join team Oct. 27 ; Tomczyk; Hartwig help Oakland to tie ; OU ready for closeup ; Blue-collar practice: Pistons goin' to work at the O'rena ; CLUB SPORT SPOTLIGHT Breaking away: Billiards club open to pool sharks; minnows alike ; undergrad and engaged: For some OU students; being engaged or married can lead to a misunderstanding with peers ; Stay fit without leaving your dorm room: Students don't need the gym with this convenient 15-minute workout ; Caught reading The Post ; Burglars; Butts and bras: Thieves have gotten odder and more creative over the years ; Math students cry wolf ; Jury: Thomas harassed former executive ; Taliban executes Afghan teenager: 15-year-old boy hanged for having U.S. money ; Leaders of North; South Korea meet ; Nation World News Briefs ; New world record:stone skipped 51 times
Date
---
2007-10-03
Subject
---
Student demonstrations
Budget appropriations
Nature preserves
Oakland University Police Department
Barnett, Bryan
Politics
Rights
---
Users assume all responsibility for questions of copyright, invasion of privacy, and rights of publicity that may arise in using reproductions from the library's collections.
Collections
---