The Oakland Post 2007-08-31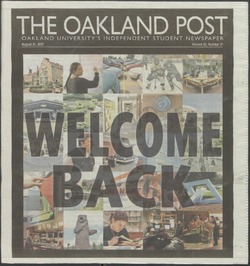 Author
---
Contributor
---
Kozlowski, Kelly
Gully, Paul
Alexander, Dustin
Perales, Liz
Kandel, Sara
Cameron, Tyler
Franz, Samantha
Cherup, Alex
Wojcik, Lindsey
Filiatrault, Celeste
Tate, Rob
Dunsmore, Jesse
Graski, C.M.
Ochtinsky, Brittany
Degel, Nick
Roberts, Adam
Ross, Vanessa
Wawrzyniak, Tracy
Nelson, Crystal
Sexton, Owen
Foote, Shenise
Holm, Heather
Vitale, Maria
Description
---
WELCOME BACK ; THIS WEEK ; STAFF EDITORIAL Become a true Grizzly; get involved on campus ; OUSC Vice President: The time for action is now ; Progressing for peace ; OU student to walk from Virginia to California in protest of war ; New Grizzlies get big greeting: Welcome Week to be fun for all ; Board OKs $971 tuition hike: But members look for ways to help students cover higher costs ; Teens accelerate toward safety: Dodge-Auto Week Magazine teach driving skills at OU ; University to mark 50-year anniversary ; POLICE FILES ; Meadow Brook to host singer Chris Carrabba: Dashboard Confessional's front man to perform acoustic set ; Severe weather spawns tornadoes: Inflicts heavy damage and power outages in Fenton; Holly ; New park opens in Highland Township: Highland Park; Oakland County's 13th park will open Oct. 1 ; Jousting matches top off exciting Renaissance Festival ; Local fun spots to feature art; live entertainment; food and drinks ; Nation World New Briefs ; Attorney General Gonzales resigns ; Greece fires a 'national catastrophe' ; Vick pleads guilty; apologizes ; The essentials for Golden Grizzly success: Tip 1: Killing time between classes ; Tip 2: After hours studying ; Tip 7: Saving money on books ; the Post staff compiles must-know info about life at OU: Tip 3: Stay on top of the news ; Tip 4: Making the most of your student ID card ; Tip 5: Resting up ; Tip 6: Finding the deals ; Dorm room decor for under $50: Tired of the boring white walls in your dorm? Spruce up your dorm with these decorating tips ; Back to school fashion 101 ; College can be smooth sailing: Students just need management skills ; TIPS FOR BETTER TIME MANAGEMENT ; Can't we all just get along?: Don't be afraid of getting the roommate from hell; check out these tips for getting along ; Rising from the ashes: Men's soccer looks to wipe their slate clean in 2007 ; Kristi times four: OU Soccer's four Kristis hope to do big things this season ; Loyal Golden Grizzly fan dies at 62 ; One is the loneliest number: After a single victory last year; volleyball seeks to improve ; Running with the middle: Young cross country rosters look to surpass preseason rankings ; Women's Cross Country ; Ready and roaring to go: Season almost in full swing after slow start ; SYMPATHIZING WITH A PSYCHO: The childhood of Michael Myers ; Review of summer '07 ; Introduction to College ; Welcome Back: Success; ASC Style ; How do you prepare to go back to school?
Date
---
2007-08-31
Subject
---
Student activities
Welcome Week
Tuition rates
Driving skills
Oakland University History
Dormitories
Residence halls
Fashion
Study habits
Rights
---
Users assume all responsibility for questions of copyright, invasion of privacy, and rights of publicity that may arise in using reproductions from the library's collections.
Collections
---