The Oakland Post 2005-03-16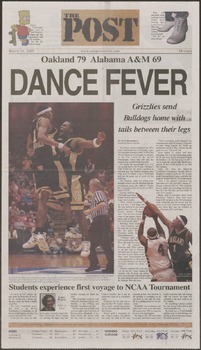 Author
---
Contributor
---
Baker, Libby
Eshmawi, Roquaya
Pemberton, Dave
Ciullo, Dante
Walker, Aaron
Brunner, Allison
Gorecki, Elizabeth
Lovisa, Gina
Kosztowny, Sheila
Utz, Dana
Phillips, Dave
Stevens, Brendan J.
Droz, Laurel
Roman, Heidi
Bahri, Loreen
Cotta, Nick
Swidwinski, Julie
Marzoug, Vera
Cracchiolo, Marina
Ujla, Krupa
Stack, Anthony
Mallard, Erin
Kruger, Andrea
Kolasa, Carrie
Description
---
Oakland 79 Alabama A&M 69 DANCE FEVER: Grizzlies send Bulldogs home with tails between their legs ; Students experience first voyage to NCAA Tournament ; WEEKEND OUTLOOK ; OUPD issues warrants: Campus events still closed to public; dance ban still in effect ; Fire ignites in Hannah Hall ; Board meets after three month recess ; Former congressmen meet with students ; Students screened for eating disorders ; Congress discusses Chartwell contract ; GRIZZLIES await selection decision ; Cobo plans turn private ; $3 million mosque; center approved ; Prices on the rise ; Fuel saving tips ; Global Glance ; Global goof: Puppets' sexuality questioned in video ; What are gas prices like around OU? ; Commuter students feel price hike in their wallets ; EDITORIAL Men's basketball team exemplifies meaning of true teamwork ; CONGRESS UPDATE OUSC gets ready for upcoming elections ; LETTERS TO THE EDITOR: Ban on student organization events is unreasonable ; Grizzlies define March Madness ; NCAA berth has wide-reaching effects ; Slow pace ends women's tourney ; Sweet victory was worth the wait ; Hockey falls just short: Grizzlies lose to Spartans in overtime ; Spring sports take field Baseball ; Mid-Con PRESEASON POLL ; Men looking to take final step ; Softball ; Grizzlies hopes to regain glory ; MID-CON PRESEASON POLL ; Crossword puzzle ; Comic ; Horoscopes ; Out and About: Music; Theater; Dance ; Two Minutes With ; Scout; the Leader Dog ; DANTE'S ENIGMA ; Clean Up Your Act: ENVIRONMENT ; Recommended: READING ; news in short: Stress management available to students ; election LOW down ; "I'm Bart Simpson - who the hell are you?": Voice-actor Nancy Cartwright entertains OU students with characters' voices ; Ford Co. brings new technology to students ; OU grad journeys with old; lost spirit ; Fashion world revives trends ; Is St. Patrick's Day all about the green beer? ; Tourney grips OU community ; Fans join team in O'rena for Selection Show party
Date
---
2005-03-16
Subject
---
NCAA
Men's basketball
Oakland University Police Department
Eating disorders
Food service operations
Commuter students
Cartwright, Nancy
Fashion
Rights
---
Users assume all responsibility for questions of copyright, invasion of privacy, and rights of publicity that may arise in using reproductions from the library's collections.
Collections
---