The Oakland Post 2003-09-17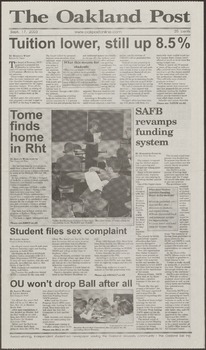 Description
---
Tuition lower; still up 8.5% ; Tome finds home in Rht ; SAFB revamps funding system ; Student files sex complaint ; OU won't drop Ball after all ; Grad student gets award ; OUSC goofs on elections ; Nobel poet to read at OU ; Changes for Journalism ; Police Beat ; Gay marriage ban ; Oakland County Commissioners vote to uphold statewide ban; the first step to putting a constitutional amendment on the statewide ballot ; Council seeks help: Volunteers sought to read to those lacking literacy skills ; Foundation offers incentive ; Tutors find CARE ; Global Glance ; Global goof ; Letters to the Editor ; Featured columnist What has Congress been up to all summer? ; Point - Counterpoint: Should President Bush spend $87 billion to rebuild Iraq? ; Editor's View: Education quality jeopardized ; 'Retrofit' showcases local artist ; Walk for a cause ; Greek Week offers chance to meet orgs: 13 Greek orgs and five days of fun ; Soothing jazz and poetry combine ; Park and Watch ; Crossword ; THE LOW DOWN ; OU Says: What was the last movie you've seen? ; Without a home ; Rivalry ends in draw ; Lions' bandwagon fans hit the dirt ; Senior leads team ; Volleyball wins first of season ; Escape from L.A. ; Golf aces set career marks ; Grizzly Calendar ; Student Affairs Column: UPDATING YOU EVERY WEEK! Now Hiring!!!!!!
Date
---
2003-09-17
Subject
---
Tuition rates
Meadow Brook Ball
Student Activities Board
Grants
LGBTQ
Heart Walk
Greek letter societies
Rights
---
Users assume all responsibility for questions of copyright, invasion of privacy, and rights of publicity that may arise in using reproductions from the library's collections.
Collections
---