The Oakland Post 1988-02-01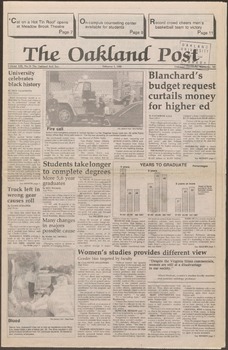 Author
---
Contributor
---
Byrne, Jennifer
Callahan, Katie
Cook, Tom
Gleeson, Julie
Hogg, David
Maslowsky, Karyn
McDowell, Mark
McMurray, Bob
Moraniec, Marc
Nass, Alisa
Olsen, Natalie
Palazzolo, Sue
Ross, Doc
Schaffer, Dawn
Sneddon, Andy
Spezia, Mark
Stokes, Susan
Stone, Calen
Tucker, Bill
Paris, Paul
Shuell, Jamie
Stephenson, Art
Church, Tom
Description
---
University celebrates black history ; Fire call ; Blanchard's budget request curtails money for higher ed ; Truck left in wrong gear causes roll ; Blood ; Students take longer to complete degrees ; Many changes in majors possible cause ; Women's studies provides different view ; NEWS BRIEFS Vandenberg site of recent thefts ; Gas line breaks ; AHC president quits position ; Violin virtuoso ; Reverse racism taints BAM ; Sex; food motivates human race ; Letters to the Editor Right to free speech should be practiced with self-restraint ; 'Post' fails black fraternity with insufficent coverage ; When snow storms hit; sand better than salt despite mess ; BLOOM COUNTY ; Dan Rather event not unique media attacked often ; What's Happening ; Play covers serious matters despite humorous material ; Class taught at Greenfield Village give teachers historic perspective ; Students form group to write creative magazine ; Dog becomes popular personality on campus ; Eight students art history professor spend fall semester in Vienna ; Counseling center offers valuable services to students community ; Measles close Colorado campus ; Florida; anyone? ; In her own words ; Special equipment ; Chinese torture ; Stretch before fencing ; A spot of tape ; Spike called me a wimp ; Pioneers put Ferris Bulldogs on leash as record crowd goes nuts ; Pioneer tankers sink third-ranked Clarion 138-79 ; Cheerleaders pompons pep band do their best ; Senior athletes reflect on end of playing days ; Gamecocks Groggery win face one another in title game ; Lady tankers not sad with 112-107 defeat ; Fencers cut deal with Wolverines join U of M team at tournament ; Cagers kick Ferris Bulldogs ; Hoop star Klein-Green has lawman husband ; GLIAC standings.
Date
---
1988-02-01
Subject
---
Black Awareness Month
Blanchard, James J., 1942-
Major changes
Women's studies
Greenfield Village
Kontuse
Kovach-Tarakanov, Helen
Midwest consortium for study abroad
Fink, Robert
Rights
---
Users assume all responsibility for questions of copyright, invasion of privacy, and rights of publicity that may arise in using reproductions from the library's collections.
Collections
---