The Oakland Post 1987-11-09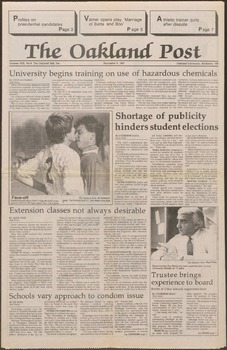 Author
---
Contributor
---
Brown, Missy
Bura, Elizabeth
Byrne, Jennifer
Callahan, Katie
Cheiman, Barb
Cunningham, Alicia
Dyke, Tim
George, Theresa
Gleeson, Julie
Goniwiecha, Paula
Green, Betty
Hogg, David
Jordan, Crystal
Karaba, Beth
Katsaros, Louie
Lewis, Derrick
Marine, Tim
Moraniec, Marc
Nass, Alisa
Olsen, Natalie
Rauch, Amy
Schaffer, Dawn
Stokes, Susan
Weinert, Cheryl
Weiss, Cheryl
Zolkowski, Claudette
Aguilar, Debby
Paris, Paul
Hawkinson, Ed
Stephenson, Art
Church, Tom
Manley, Dave
Zielinski, Jeff
Description
---
University begins training on use of hazardous chemicals ; Shortage of publicity hinders student elections ; Extension classes not always desirable ; Trustee brings experience to board ; Schools vary approach to condom issue ; NEWS BRIEFS ; Clothes stolen from laundry room ; Radar detector taken from car ; CREF value remains low ; Congress presents two bills for referendum ; Presidential candidates offer views on issues ; OPINION Kelly Martek best candidate for president ; Banks clean up on credit cards rates ; Letters to the Editor ; Leading roles in two new films boost career of upcoming actor ; Knowledge of risk factors promotes 'Safe Sex' ; Student group provides alternative film selections ; OU Star Search features student talent professional magician ; What's Happening ; SPORTS ; Soccer team wins four playoffs could be next ; Spikers loose to Ferris Wayne playoff hopes all but gone ; Women's swim team 3rd at Bowline Green relays ; Pioneer tankers take 1st break several records ; Burley goes to town D rating may be next ; University reserves 15-20 parking places for Pistons basketball team.
Date
---
1987-11-09
Subject
---
Training
Hazardous chemicals
Student elections
Elections
Bemis, Donald
Oakland University. Board of Trustees
Varner Studio Theatre
Cryer, John
Sexually transmitted diseases
AIDS
Cinematheque
Movies
OU star search
Rights
---
Users assume all responsibility for questions of copyright, invasion of privacy, and rights of publicity that may arise in using reproductions from the library's collections.
Collections
---