OU News: July 12, 1977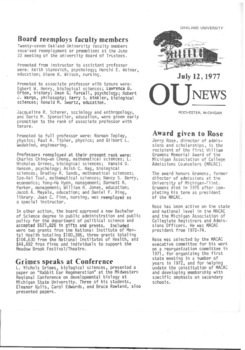 Description
---
Articles on: Oakland University faculty members reemployed by Board of Trustees; Jerry Rose awarded William Gramenz Memorial Award of MACAC; Oakland Center to sponsor art exhibition, sale; C. William Thompson named director of computer services; library hosts workshop for library administrators; article on Larry Bartalucci as new registrar.
Date
---
1977-07-12
Subject
---
University History
Faculty reappointments
Faculty promotions
Kresge Library
Oakland University. Registrar
Oakland University. University Technology Services
Collections
---
Related items
Showing items related by title, author, creator and subject.
University Relations News Service

(

Oakland University

,

1987-09-18

)

Griffiths: 'Find a Cause, Work Hard' ; Eberwein, Bragg Receive Excellence Awards ; Gallery Opens with 'Magic in the Mind's Eye' ; Board Confers Emeritus Title on Eklund ; Conference Draws International Experts ; Upward ...

University Relations News Service

(

Oakland University

,

1987-10-02

)

Address to the Senate and Faculty September 17, 1987 ; Published October 2, 1987.

University Relations News Service

(

Oakland University

,

1992-03-23

)

Sandra Packard Accepts Offer for OU Presidency ; Past University Leaders