Focus: Oakland 1974-02-13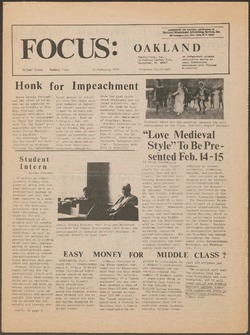 Author
---
Contributor
---
Hadley, Lawrence D.
Pociask, Robert A.
Barshaw, Charles J.
Mills, Rick
Glaser, Gary
Dearing, Vicki
Greer, Betty
Nahajewski, Al
Schroeder, John
Meckler, Ron
Moy, Art
Woods, Willis
Stoner, Sue
Harper, Mary Ellen
Kaplan, Steve
O'Hara, J. G.
Bloomfield, Gregg
Johnson, Sandra
Llewellyn, James
Greening, Bruce
Richter, Mark
Cannon, S. E.
Drife, Marie
Sims, Tamar
Volz, Mark Wayne
Menestrina, Mark
Stoffa, Claudia
Cummer, James A.
Mtu, Nbuzi
Reinhart, Garry
Description
---
Honk for Impeachment ; Student Intern ; "Love Medieval Style" To Be Pre sented Feb.14-15 ; EASY MONEY FOR MIDDLE CLASS? ; Editorial -The Election Ends ; ONWARD THE STRUGGLE ; Elections OK'd; 2 Candidates Challenged ; JOKELAND: Paint Your Station Wagon ; NIX ON NIXON PAY RAISE ; Jimmy Launce at Oakland ; Krishna Temple Hangings at M.B. ; Home Finale Tonight! Ferris Continues Hex On Oakland Cagers ; Oakland Bids Farewell To Four Seniors ; Women Show No Mercy ; Karas Wins 3 in Loss to Loyola ; JV's Suffer 1st loss 78-63 ; IM Swim Meet Set ; I.M. Volleys ; Gals Ripped By Kazoo ; KARATE EXHIBITION ; A Mental Whirlwind ; GRAY and BROWN Paint O.U.
Date
---
1974-02-13
Subject
---
Student internships
African American students
Oakland University Art Gallery
Rights
---
Users assume all responsibility for questions of copyright, invasion of privacy, and rights of publicity that may arise in using reproductions from the library's collections.
Collections
---