Focus: Oakland 1973-12-05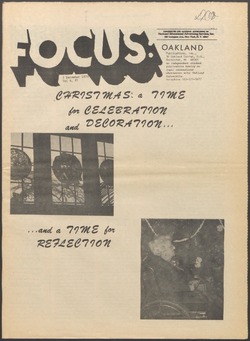 Author
---
Contributor
---
Hadley, Lawrence D.
Pociask, Robert A.
Barshaw, Charles J.
Herbertson, Thomas W.
May, Peter R.
Reinhart, Garry D.
Mills, Rick
Nahajewski, Al
Schroeder, John
Cunningham, Karie
Stoner, Susan
Cummer, James A.
Ruddy, Michael F.
Preston, William C.
Brooks, Tim
Kidney, Stu
Shrewsbury, Norm
Dearing, Vicki
Greer, Betty
Bertuglia, Rina
Richards, Harold B.
Johnson, Sandie
Burgess, Sandra
Phillips, Linda
Campbell, Bruce
McDonald, Sheila
Volz, Mark Wayne
Kennedy, Homer, III
Miller, Ray
Haga, B. Curtis
Description
---
CHRISTMAS: a TIME for CELEBRATION and DECORATION and a TIME for REFLECTION ; Editorial: Milliken - Congress Afflicted ; COMMENTARY ; Energy Crisis: JUST ANOTHER VIEW ; Is Pres. Nixon A COMMUNIST? ; PIRGIM Losing OU Support ; Registration: Not So Fast ; Village Nickel and Dimes Way To 10 Thou ; SLAVIC FOLK ENSEMBLE DANCES WAY INTO OU's HEART ; CHRISTMAS AROUND THE WORLD AT M.B. ; In Focus-N.Young Kennedy ; Party ; OU TAKES TAYLOR TOURNEY ; Varsity Looks Strong ; JV is quick - inexperienced ; Hockey ; Intramural Basketball ; GIRLS TROUNCE MADONNA 56-28 ; SPORTS LINE ; The Daily Planet: Commentary: The Real Campus Life ; Commuter Council's OAKLAND-IN-ACTION ; GABONE: "INNA - GOTTA GA. BONNA" SINGS SONGS ; The making of a super deal
Date
---
1973-12-05
Subject
---
PIRGIM
Village Project
Slavic Folk Ensemble
Meadow Brook Hall
Rights
---
Users assume all responsibility for questions of copyright, invasion of privacy, and rights of publicity that may arise in using reproductions from the library's collections.
Collections
---