Focus: Oakland 1973-11-07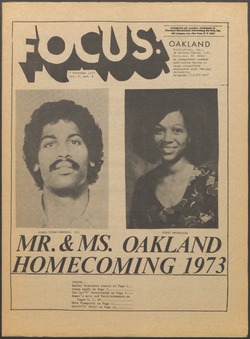 Author
---
Contributor
---
Knoska, Emil Robert (Bob)
Hadley, Lawrence D.
Pociask, Robert A.
Barshaw, Charles J.
May, Peter R.
Young-Kennedy, Homer, III
Stoner, Susan
Mills, Rick
Nahajewski, Al
Motylinski, Nancy
Greer, Betty
Hines, Paulette
Cunningham, Karie
Cummer, James A.
Kaufman, Gary
McConner, Michelle
Pennington, Geoff
Volz, Mark Wayne
Aboulafia, Diane
Dearing, Vicki
Greening, Bruce
Drife, Marie
Seroka, Donna
Carnaby, Henry
Kidney, Stu
Bertuglia, Rina
Burgess, Sandra
Knopp, Carole
Phillips, Linda
Mauelschagen, Ralph J.
Stewart, Mary
Haga, William
Reinhart, Garry
Miller, Mike
Miller, Ray
Description
---
MR. & MS. OAKLAND HOMECOMING 1973 ; Editorial -Rumors; Detroit Election ; A VIEW FROM THE RIGHT ; Two Views From The Left - Fresh Counter point ; Congress' Great Grade Conversion Snafu ; Commuter Council's OAKLAND-IN-ACTION ; The Great Lot O Controversy Viewed ; MAYA ANGELOU TO Speak at OU Thursday at 1p.m. ; Streetcar Opens at Meadow Brook ; Lawrence Philip Exhibits at Gallery 7 ; A Bit Of Shakespeare at ADA with ; Doc Holaday on the AFRAM JAZZ Lab ; SPORTS LINE ; Ou Soccer Team is Just Cruisin Along ; mid East Comment ; Sports Line ; IM Football Title Goes To the 'Bad muffs' ; Human potential Seminar Planned ; NEW BULLETIN BOARD ; Nixon's Impeachment ; Tamerack Weekend ; Commuter Council
Date
---
1973-11-07
Subject
---
Homecoming
Parking
Afram Jazz Ensemble
Rights
---
Users assume all responsibility for questions of copyright, invasion of privacy, and rights of publicity that may arise in using reproductions from the library's collections.
Collections
---