Focus: Oakland 1973-10-02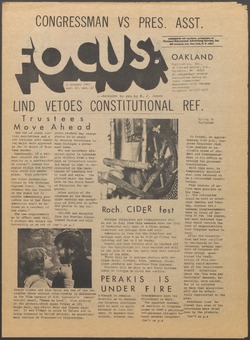 Author
---
Contributor
---
Knoska, Emil Robert (Bob)
Hadley, Lawrence D.
Pociask, Robert A.
Vitale, Nick
Kredo, Tom
Young-Kennedy, Homer, III
Cunningham, Karie
Kelly, Rosalyn
Phillips, Linda
Bertuglia, Rina
Barshaw, Charles J.
Burgess, Sandra
Sutherland, Barb
Mills, Rick
Nahajewski, Al
Motylinski, Nancy
Greer, Betty
Storum, Gayle Ana
Looney, Ethel
McConner, Michelle
Dearing, Vicki
Drife, Marie
Seroka, Donna
Long, Chris
Knoska, Sue Ann
Herbertson, Thomas W.
May, Peter R.
Description
---
Trustees Move Ahead ; Roch. CIDER fest ; PERAKIS IS UNDER FIRE ; LIND VETOES CONSTITUTIONAL REF.: Voting is Postponed ; O.U. IN ACTION ; FOOD SERVICE COMMITTEE SERVES UP "BEEFS" TO SAGA ; Kettering Magnetics Lab: O.U.'s Unknown Attraction ; LOOK HOMEWARD ANGEL ada ; Pioneers Trounce Eastern Tie with Western ; HOMECOMING ON ; Women's Tennis Results ; Orchestra Vacancies in String and Brass Sections ; OUR OAKLAND ZOO: Brownie Bear tells it like it is
Date
---
1973-10-02
Subject
---
Oakland University. Student Congress
Oakland in Action
Food service
Kettering Magnetics Laboratory
Rights
---
Users assume all responsibility for questions of copyright, invasion of privacy, and rights of publicity that may arise in using reproductions from the library's collections.
Collections
---