Focus: Oakland 1973-09-26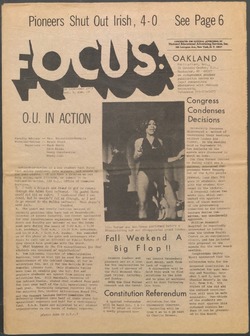 Author
---
Contributor
---
Knoska, Emil Robert (Bob)
Hadley, Lawrence D.
Pociask, Robert A.
Reed, Mike
Reegan, Frank
Carter, Gary
Barshaw, Charles J.
Bertuglia, Rina
Glases, Garret
Phillips, Linda
Schlee, John
Nahajewski, Al
Kenny, Kevin
Burgess, Sandra
Betman, Marilyn
Greer, Betty
Storum, Gayle Ana
Jones, K. J.
Dearing, Vicki
Drife, Marie
Filipiak, Donna
Knoska, Sue Ann
Herbertson, Thomas W.
Schmidt, Karl
Wyatt, Emsley J.
Description
---
O.U. IN ACTION ; Fall Weekend A Big Flop!! ; Constitution Referendum ; Congress Condenses Decisions ; STUDENT GOV'TS HOST WORK SHOP ; S. T A. R ; HEALTH CENTER STILL HEALING ; FOOTBALL ; S.E.F.S. presents EASY RIDER ; DORMS SEEING LIGHT ; OU Campus Grows ; O'DOWD TELLS FUTURE! ; SOCCER TEAM SHUTS OUT NOTRE DAME ; INTRAMURALS OFFERED ; advice to freshmen ; IN MEMORIAM
Date
---
1973-09-26
Subject
---
Oakland in Action
Graham Health Center
Dormitories
Campus development
O'Dowd, Donald D. (Donald Davy), 1927-
Rights
---
Users assume all responsibility for questions of copyright, invasion of privacy, and rights of publicity that may arise in using reproductions from the library's collections.
Collections
---