Focus: Oakland 1973-04-11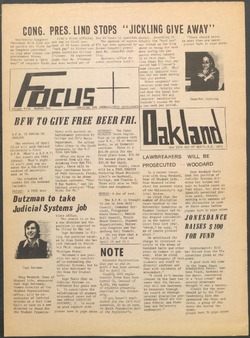 Author
---
Contributor
---
Knoska, Emil Robert (Bob)
Hadley, Lawrence D.
Pociask, Robert A.
Johnson, Donald E.
Young-Kennedy, Homer, III
Woloszynski, Catherine (Cass)
Johnson, Earl
Moen, Paul
Kenny, Kevin
Wilson, Sue
Flynn, Lee
Moore, Kevin
Johnson, Rick
Kredo, Tom
Barshaw, Charles J.
Storum, Gayle Ana
McConner, Michelle
Greer, Betty
Theison, Sue
Wojtowicz, Gregory
Knoska, Sue Ann
Herbertson, Thomas W.
Carnaby, Henry
Buch, Laura
Fukushima, Susan
Stachnik, Paula
Lewis, Steve
Description
---
CONG. PRES. LIND STOPS "JICKLING GIVE AWAY" ; BFW TO GIVE FREE BEER FRI. ; Dutzman to take Judicial Systems job ; LAWBREAKERS WILL BE PROSECUTED - WOODARD ; JONES DANCE RAISES $100 FOB FUND ; DRAKE SUES OU FOR VB ASSAULT ; COMMUNITY HOUSE FUNCTION EXPLAINED ; '73 CONGRESS SHOWS NEW STYLE AT FIRST MEETING ; CONGRESS NUMBERS PUBLISHED ; Prof To Study At Folger Library In D.C. ; Pop Cycles II to play next Wed ; OU Jazz Band to perform Tues ; IN Focus with Kennedy Homer III ; BACH SINGS McCARTNEY Swings LUTES SIGH & AIR WAVES FLY ; STUDENT PHOTO SHOW HERE TO END WED. ; OU Student Wins National Danforth Award
Date
---
1973-04-11
Subject
---
Oakland University. Student Congress
Judicial systems
Jones, Isaac
Crime
Rights
---
Users assume all responsibility for questions of copyright, invasion of privacy, and rights of publicity that may arise in using reproductions from the library's collections.
Collections
---