OU News: February 3, 1976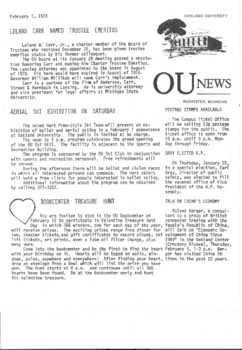 Description
---
Articles on: Leland W. Carr, Jr. given trustee emeritus status; Earl Gray elected Vice President of AP Assembly; Billie DeMont appointed director of Center for General and Career Studies; available undergraduate, faculty research grants; Jean S. Braun elected secretary of Michigan Society of Consulting Psychologists; Meadowbrook Art Gallery to display "Art of Pre-Columbian America" exhibit; Studio Company of OU's Academy of Dramatic Art to tour Michigan schools; University and General Electric Foundation to sponsor applied mathematics, mechanics seminars.
Date
---
1976-02-03
Subject
---
University History
Oakland University. Board of Trustees
Ski Hill
Gray, Earl
Oakland University. Bookstore
Undergraduate research
Oakland University Art Gallery
Seminars
Collections
---
Related items
Showing items related by title, author, creator and subject.
University Relations News Service

(

Oakland University

,

1987-09-18

)

Griffiths: 'Find a Cause, Work Hard' ; Eberwein, Bragg Receive Excellence Awards ; Gallery Opens with 'Magic in the Mind's Eye' ; Board Confers Emeritus Title on Eklund ; Conference Draws International Experts ; Upward ...

University Relations News Service

(

Oakland University

,

1987-10-02

)

Address to the Senate and Faculty September 17, 1987 ; Published October 2, 1987.

University Relations News Service

(

Oakland University

,

1992-03-23

)

Sandra Packard Accepts Offer for OU Presidency ; Past University Leaders