Focus: Oakland 1974-10-16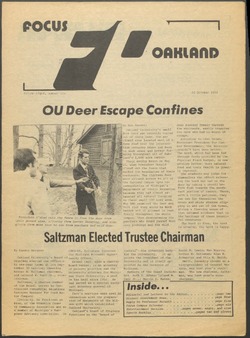 Author
---
Contributor
---
Hadley, Lawrence D.
Pociask, Robert A.
Nahajewski, Al
Schroder, John
Garback, Tim
Johnson, Bob
Dearing, Vicki
Varndell, Sherry
Chomin, Linda
Rayner, Denise
Kidney, Stu
Brooks, Tim
Russell, Ron
Hewlett, Edward R.
Shacklett, John
Foster, Gary A.
Griffin, Darryl
Mills, Lisa
Bullock, Jim
Llewellyn, James
Holmann, Monica
Herbertson, Thomas W.
Jensen, Fred
Kapahi, Maribeth
Loquitur, Musa
Christopher, Mark
Description
---
OU Deer Escape Confines ; Saltzman Elected Trustee Chairman ; Inside ; Editorial Do Guns Turn You On? ; Trustees OK Salary Raises ; Need Advising? ; On Larceny Charge Public Safety Officers Arraigned ; Coffeehouse Controversy In Area Hall Council ; Progress In University Congress ; Adolescent Acne Or Bubonic Plague? ; Focus Campus Kalendar Human Sexuality Seminar ; THE ENTERTAINMENT PAGE: Review Of The Who's Latest LP - Odds And Sods Long Live Rock; THE WHO-Odd's & Sods (MCA-2126) ; The Uncluttered Look ; Earth Music With Gentle Giant ; Veterans Affair Meeting Today ; Parapsychology Conference ; Anibal Falls Twice ; IM Floor Hockey To Begin Play ; Pioneers Battle MSU To Historic Tie ; ON THE SPOT
Date
---
1974-10-16
Subject
---
Oakland University. Board of Trustees
Oakland University Police Department
Rights
---
Users assume all responsibility for questions of copyright, invasion of privacy, and rights of publicity that may arise in using reproductions from the library's collections.
Collections
---