Focus: Oakland 1974-09-25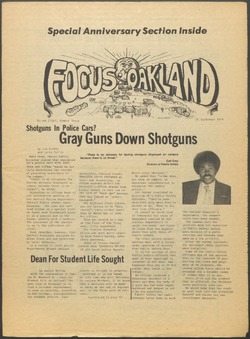 Author
---
Contributor
---
Hadley, Lawrence D.
Pociask, Robert A.
Nahajewski, Al
Schroder, John
Glaser, Gary
Varndell, Sherry
Rayner, Denise
Chomin, Linda
Kidney, Stu
Arend, Jeanne
Jensen, Fred
Garback, Tim
Burgess, Sandra
Johnson, Bob
Russell, Ron
Crall, Sandi
Hyslop, Daniel
Arner, Ann
Peebles, Bob
Knopp, Carol
Flury, Julie
Kaimala, Debbie
Description
---
Fifteenth Anniversary ; A Baby Turns Fifteen ; Happy Birthday OU ; Shotguns In Police Cars? Gray Guns Down Shotguns ; Dean For Student Life Sought ; Editorial: Focus Vs. Faculty ; Computerized System Makes It Easy Pool It - Save Gas Money Nerves ; Focus Record Review ; STUDENT CONDUCT POSITIONS: Available For Students ; We've Come A Long Way Baby! ; Oakland University -1959 ; THE OAKLAND UNIVERSITY CAMPUS ; Focus Campus Kalendar: Library III To Kick Out! ; Gray Urges Tight Gun Control Laws ; Win 5-0 And 9-0 Pioneers Destroy DIT And Macomb ; OU Runners Collapse
Date
---
1974-09-25
Subject
---
Oakland University Police Department
Oakland University History
Buses
Rights
---
Users assume all responsibility for questions of copyright, invasion of privacy, and rights of publicity that may arise in using reproductions from the library's collections.
Collections
---