Focus: Oakland 1974-09-11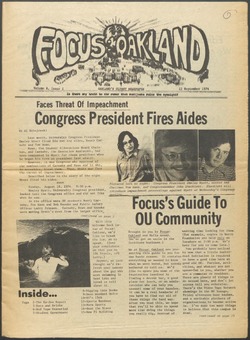 Author
---
Contributor
---
Hadley, Lawrence D.
Pociask, Robert A.
Nahajewski, Al
Schroder, John
Glaser, Gary
Varndell, Sherry
Kidney, Stu
Cannon, Stephen E.
Llewellyn, James
Arend, Jeanne
Hewlett, Edward R.
Herbertson, Thomas W.
Volz, Mark Wayne
Dearing, Vicki
Shacklett, John
Jensen, Fred
Garback, Tim
Haga, William
Onkask, Mile
Description
---
Faces Threat Of Impeachment Congress President Fires Aides ; Focus s Guide To OU Community ; Inside ; Editorial: We're Back In Business ; The Ka-Zoo Report Financial Aid Hassles Ruin School Year ; Focus's Guide To The OU Community: Where To Go For Decent Drinks ; SEMTA Adds OU Service ; Cheapie Restaurants Around OU ; Focus Presents: Your Very Own Red Tape Unsnarling Manual ; Just What Has University Congress Done? ; Assorted Diversions To Pick Up On ; How To Get More Out Of Text books ; And Eat It Too ; Student Orgs - Something For Everybody ; Dean Woodard Quits ; COMICS ; Oakland Celebrates 15th Birthday ; SKI CLUB ; Sports OUtlook 1974-75 ; Athletic Facilities For All Students ; Soccer Team Hosts Calvin On Saturday ; Intramural Sports Program Expands ; Intramural Sports Schedule ; Beating Those Lonely Freshman Blues ; Public Safety - Services Building Started For Fall '75 ; NEW LOGO
Date
---
1974-09-11
Subject
---
Oakland University. Student Congress
Campus development
Rights
---
Users assume all responsibility for questions of copyright, invasion of privacy, and rights of publicity that may arise in using reproductions from the library's collections.
Collections
---