Focus: Oakland 1974-04-10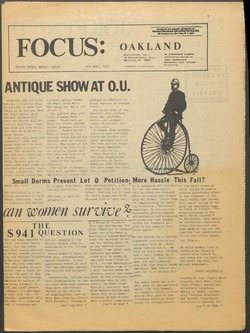 Author
---
Contributor
---
Hadley, Lawrence D.
Pociask, Robert A.
Young, Gordon
Glaser, Gary
Mills, Rick
Dearing, Vicki
Greer, Betty
Kidney, Stu
Schroder, John
Nahajewski, Al
Cannon, Stephen E.
Rader, Glen
Cummer, James A.
Mtu, Nbuzi
Burgess, Sandra
Long, Chris
Varndell, Sherry
Volz, Mark Wayne
Harries, Jim
Llewellyn, James
Herbertson, Thomas W.
Description
---
ANTIQUE SHOW AT O.U. ; Small Dorms Present Lot O Petition: More Hassle This Fall? ; can women survive? ; THE $941 QUESTION ; JOKELAND ; ASSTROLOGY A SYNDICATED COLUMN BY WINE WOMEN AND SONG ENT ; Gamesmenship ; Pioneer '9' Slip Past Grand Valley Twice ; Wrist Wrestling Champs Crowned ; SPORTS LINE ; Profile: Paul Karas ; SPANISH DANCERS ; TV COLLEGE: VIOLENCE ; DINNER AT MB HALL
Date
---
1974-04-10
Subject
---
Parking
Women
Meadow Brook Hall
Rights
---
Users assume all responsibility for questions of copyright, invasion of privacy, and rights of publicity that may arise in using reproductions from the library's collections.
Collections
---