The Oakland Observer 1968-12-13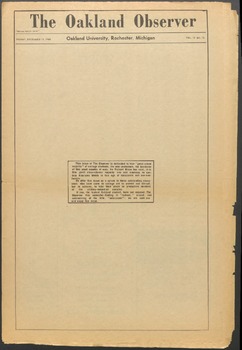 Author
---
Contributor
---
Honey, Mike
Black, David
Harper, Norman W.
Bennett, Mark
Allen, Martha
Zawodni, Cathy
Close, Bill
Schwab, Fran
Campbell, Colin
Sachau, Rosalind
Gaynor, Steven
Knight, Nancy
Webster, Ken
Einstein, Allan
Louisell, Ruth
Bernstein, David
Walkowitz, Karen
Catton, Davis
Wolf, Martin
Dutzmann, Ingo
Tyson, Clarence
Hitchcock, Michael
Davidson, Joe
Edwards, Stan
Grogan, Cindy
Description
---
Cellar' Takes I.M. Football Title ; SPORTS ; shorts ; Final Examinations Begin This Saturday ; Dorm Happenings ; New Endowed Chair ; DU Swimmers Open Season ; Cross Country Record Set ; IM Notes ; Conyers Comments On ABM ; Praise for the Involved Student ; Commuter Corner ; Pictures of Student Life ; EDITORIALS: pro; con ; Student Plagiarizes Rand ; The Commuter: A Tribute ; letter Feud Over Hamlin Election ; letter - they know we know they know ; Burdick Plan Defeated ; Reading Study Center ; Star Man at Off-Campus
Date
---
1968-12-13
Subject
---
Dormitories
Endowments
Oakland University. Student Organizations
Rights
---
Users assume all responsibility for questions of copyright, invasion of privacy, and rights of publicity that may arise in using reproductions from the library's collections.
Collections
---