OU News: December 14, 1976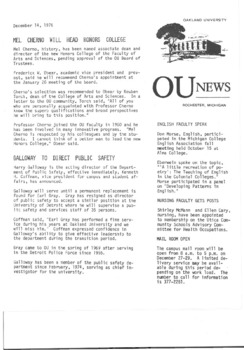 Description
---
Articles on: Mel Cherno named associate dean, director of Honors College of the Faculty of Arts and Sciences; Harry Galloway to act as director of Department of Public Safety; heavy traffic expected in cashier's office for January 1977 registration; Board of Trustees action summary; university services reduced during Christmas holiday season; David G. Smith, Mary L. Otto presentations to National Council on Family Relations; faculty probationary contracts approved by Board of Trustees; alumni telephone fund drive breaks fundraising, alumni contribution records.
Date
---
1976-12-14
Subject
---
University History
Oakland University. Honors College
Oakland University. Board of Trustees
Gray, Earl
Oakland University Police Department
Faculty contracts
Collections
---
Related items
Showing items related by title, author, creator and subject.
University Relations News Service

(

Oakland University

,

1987-09-18

)

Griffiths: 'Find a Cause, Work Hard' ; Eberwein, Bragg Receive Excellence Awards ; Gallery Opens with 'Magic in the Mind's Eye' ; Board Confers Emeritus Title on Eklund ; Conference Draws International Experts ; Upward ...

University Relations News Service

(

Oakland University

,

1987-10-02

)

Address to the Senate and Faculty September 17, 1987 ; Published October 2, 1987.

University Relations News Service

(

Oakland University

,

1992-03-23

)

Sandra Packard Accepts Offer for OU Presidency ; Past University Leaders