The Oakland Observer 1963-10-04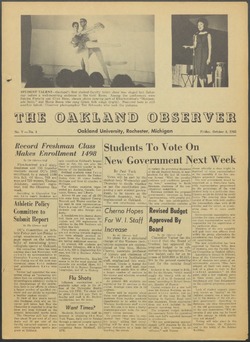 Author
---
Contributor
---
Turk, Paul
Metzger, Wolf
Hefner, Karen
Finzel, Roger
Young, Marilyn
Garcia, Pete
Polsby, Dan
Coffin, Howard
Liggett, Dave
Roe, Don
Jarosz, Vic
Glass, Randy
Ianarelli, Phil
Lyon, Les
Schwarz, Ted
Rudolph, Ed
Slowinski, Huck
Evans, Leslee
Wideman, Brian
Connellan, Bill
Sowder, Roberta
Pearson, Ann
McIntosh, Ronna
Von Zittwitz, H.
Description
---
Record Freshman Class Makes Enrollment 1498 ; Athletic Policy Committee to Submit Report ; Flu Shots ; Want Times? ; Students To Vote On New Government Next Week ; Cherno Hopes For W. I. Staff Increase ; Revised Budget Approved By Board ; Good Job Goodwin ; 2nd Symposium on the Arts Schedule of Events ; Minority Report ; Photo Demand ; Editor's Tripewriter ; Students Outbowl Faculty ; The Spectator ; How Happy - How Miserable? Students Comment On Dorm Life ; Old Grades Still Used O'Dowd Says ; Students Want Greater Commuter-Resident Contact ; Library Gets 697 Periodicals ; Don't Fret ; Appoint Director of Professional Program ; Dropouts - Stay In School ; Library Classes Start Tomorrow
Date
---
1963-10-04
Subject
---
Talent shows
Enrollment
Student Assembly
Budgets
Library collection development
Library instruction
Rights
---
Users assume all responsibility for questions of copyright, invasion of privacy, and rights of publicity that may arise in using reproductions from the library's collections.
Collections
---