The Dream Act: Assessing its Effects on Immigration & Higher Education Institutions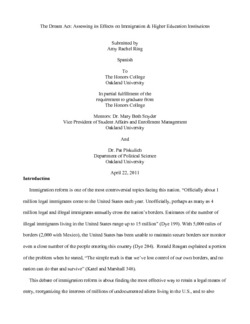 Description
---
The debate of immigration reform is about finding the most effective way to retain a legal means of entry, reorganizing the interests of millions of undocumented aliens living in the U.S., and to also ensure integrity of the U.S. borders. One piece of legislation entitled The DREAM (Development, Relief, and Education for Alien Minors) Act was presented to the United States Senate in 2003 by Senator Richard R. Durbin (D-Illinois) and Senator Orrin Hatch (R-Utah) as a proposed way of dealing with one aspect of the immigration issue. The DREAM Act would allow undocumented aliens who live in the United States the opportunity to gain citizenship by completing a college degree within six years or by serving two years of military service. In this paper, I take a holistic view of the potential consequences of the DREAM Act by looking at how it affects immigration in the United States, and our system of higher education.
Date
---
2013-06-11
Subject
---
Education
Illegal immigration
Dream act
Immigrants
Borders
Immigration reform
Undocumented immigrants
Collections
---
Related items
Showing items related by title, author, creator and subject.
Daniel, Dominique

(

University of Texas Press

,

2012

)

This article examines the constitution of the collections of the Multicultural History Society of Ontario between 1976 and 1982 in the context of the Canadian policy of multiculturalism. Set up as an independent nonprofit ...

This article traces the representations of ethnicity and immigration in mainstream American and Canadian archives since the 1950s. It identifies three main periods of evolution of these ethnic archives: the era prior to ...

Oakland Sail, Inc.

(

Oakland Sail, Inc.

,

2018-01-31

)

Party Like Gatsby: Oakland enjoys a gilded night at the annual Meadow Brook Ball ; Tuition Trends. Tuition costs among OU and other universities tied to competition ; Shape of Water. Review of Guillermo del Toro's critically ...