AN INTERACTIVE ECOSYSTEM OF MUSIC LEARNING: INDIVIDUAL LEARNING IN SMALL GROUP CONTEXTS IN A MUSIC CLASSROOM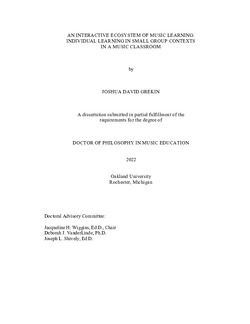 Description
---
In this qualitative study, I explored the relationships between individual and group learning in the context of music ensembles in the classroom. I sought to understand how groups and individuals construct and develop identities and search for power in this context and how the self-esteem, efficacy, and productivity of groups and individuals may be related. As a teacher-researcher (Kincheloe, 2003) in an interactive, interconnected multi-age, constructivist learning environment (Brooks & Brooks, 2001; Fosnot, 1996; Wiggins, 2015) where learners and groups of learners were encouraged to share ideas and knowledge, I examined the musical community from multiple perspectives; focusing separately on the entire school community, small musical ensembles, and individual learners. The relationships among these perspectives, and the experiences of these individuals and groups were the primary focus of this study. Data consisted of extant videos, audio recordings, teacher observation notes, and informal interviews, and were analyzed through a process of identifying and categorizing emergent themes. The findings of this study enabled me to conceptualize the entire musical community at the school as a constantly evolving ecosystem in which every individual and group was influenced by the evolution of the entire ecosystem, and the evolution of the entire ecosystem was influenced by every individual and group. Through this lens, musical groups and musical communities are seen as cohesive and developing entities separate from, and interacting with the individuals who constitute them. Further, I found that ideas, understandings, resources, and innovations resided within the ecosystem and that a robust, multi-perspective awareness of the ecosystem, both in its entirety and of its individual parts, by the learners and music teacher, positively influenced self-efficacy, creativity, development, and growth.
Date
---
2022-03-17
Subject
---
Music education
Ecosystem, Instrumental
Music Education
Popular Music
School Music
Collections
---
Related items
Showing items related by title, author, creator and subject.
Oakland University

(

Oakland University

,

2016-08-15

)

"Oakland University was well represented at the 32nd annual World Conference of the International Society for Music Education , which was held last month at the Royal Conservatoire of Scotland, in Glasgow."

Oakland University

(

Oakland University

,

2018-02-23

)

"News from the College of Arts and Sciences School of Music, Theatre and Dance"

Oakland University

(

Oakland University

,

2003-08-20

)

"Students in Oakland University's Music Preparatory Division capped a highly successful first year by giving a recital performance for seniors at Alterra Assisted Living in Troy"