The Oakland Post 2022-03-23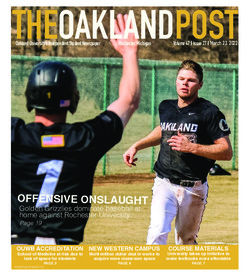 Author
---
Yim, Rachel
Lester, D'Juanna
Lovins, Grace
Popis, Joseph
Heyman, Arianna
Zerilli, Joe
Gustanski, Alexander
Chiappelli, Olivia
Tate, Christian
Taylor, Reece
Heilig, Brock
Bucki, Payton
Wood, Jennifer
Parker, Megan
Landeros, Carolina
Foster, Elizabeth
Udeozor-Nweke, Chris
Neiroukh, Noora
Willard, Maggie
Tu, Stanley
Estrada, Chris
Editor
---
Contributor
---
Yim, Rachel
Lester, D'Juanna
Lovins, Grace
Popis, Joseph
Heyman, Arianna
Zerilli, Joe
Gustanski, Alexander
Chiappelli, Olivia
Tate, Christian
Taylor, Reece
Heilig, Brock
Bucki, Payton
Wood, Jennifer
Parker, Megan
Landeros, Carolina
Foster, Elizabeth
Udeozor-Nweke, Chris
Neiroukh, Noora
Willard, Maggie
Tu, Stanley
Estrada, Chris
Description
---
Offensive Onslaught: Golden Grizzlies dominate baseball at home against Rochester University ; OUWB Accreditation: School of Medicine at risk due to lack of space for students ; New Western Campus: Multi-million dollar deal in works to acquire more classroom space ; Course Materials: University takes up initiative to make textbooks more affordable ; OUWB at risk because of lack of classroom space ; University Housing Director Jim Zentmeyer retiring ; SEHS introduces Initiative for Eradicating Racism ; Greek Council and LVC organize Day of Service ; Spanish Department retains most in-person classes ; Creative Writing program hosts Faculty Alum Reading ; OU may purchase Baker College of Auburn Hills for $8.15 million ; Professor joins GSA Task Force to promote diversity in scientific research ; University efforts to promote affordable course materials ; OneStream Panel to provide insight into tech industry ; OU's Ukrainian community ask for financial assistance ; OU AAUP, OUSC co-sponsor Labor United panel event ; People of OU: Streetwear fashion designer Michael Sana ; Drag Queen Bingo catches attention of many OU students ; Mimi Cave's 'Fresh' felt like a hollow promise ; Taxation on menstruation needs to be ended ; Grizz Gang needs to show up for every sports team ; Men's basketball plan for the next season: pass the basketball ; Golden Grizzly women's basketball looks ahead to offseason ; Softball blown out by Michigan State in last-minute matchup ; LaGrand dominates NCAA Swimming and Diving Championships ; Oakland sports teams respond to Grizz Dome collapse ; Tennis rolls past Lake Superior State in home opener ; Baseball scores series win over Wright State to open conference play ; Men's track star Jimmie Williams on breaking records and building a legacy ; Baseball dominates Rochester University thanks to offensive explosion ; Ten years of 'Gravity Falls,' an animated phenomenon
Date
---
2022-03-23
Subject
---
Men's baseball
Oakland University. William Beaumont School of Medicine
Accreditation
Classrooms
Textbooks
Open access
Zentmeyer, Jim
Racism
Greek letter societies
Authors
Faculty
Alumni
Spanish
Song, Mi Hye
Panel discussions
Technology
Women in Business
Labor unions
Sana, Michael
Drag Queen Bingo
Menstrual equity
Grizz Gang
Men's basketball
Women's basketball
Women's softball
LaGrand, Susan
Women's swimming and diving
Grizz Dome
Women's tennis
Men's baseball
Men's track and field
Collections
---
Related items
Showing items related by title, author, creator and subject.
Oakland University

(

Oakland University

,

2003-07-23

)

"OU's student athletes show they're successful at managing academics and athletics. The Mid-Continent Conference named 57 OU student athletes to its winter and spring Academic All-Conference team. Oakland's total is second ...

Oakland University. Office of the President. Athletics

(

Oakland University

,

2009-10-30

)

Newsletter of Oakland University Athletics from Director of Athletics Tracy Huth

Trafelet, Tanner; Yim, Rachel; Lester, D'Juanna; Lovins, Grace; Popis, Joseph; Heyman, Arianna; Zerilli, Joe; Tate, Christian; Kearfott, Brittany; Taylor, Reece; Heilig, Brock; Wood, Jennifer; Parker, Megan; Landeros, Carolina; Foster, Elizabeth; Neiroukh, Noora; Willard, Maggie; Ishimwe, Ayman; Drumm, Anna; Osadchuk, Amelia

(

Oakland Sail, Inc.

,

2021-11-24

)

Defending Home Court; Golden Grizzlies women's basketball snagged their first conference victory against Robert Morris at home ; SAFAC Struggles: Student body president battles OSI over use of tuition dollars ; OU has ...