The Oakland Post 2008-01-16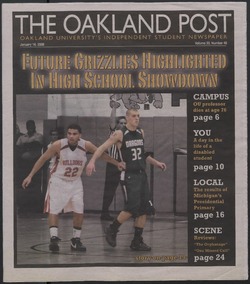 Author
---
Contributor
---
Kozlowski, Kelly
Gully, Paul
Alexander, Dustin
Franz, Samantha
Wojcik, Lindsey
Cherup, Alex
Degel, Nick
Ross, Justin
Tate, Rob
Roberts, Adam
Dunsmore, Jesse
Graski, C.M.
Ochtinsky, Brittany
Tallant, Dan
Wawrzyniak, Tracy
Bartman, Stacie
Saoud, Amanda
Llewellyn, Ian
Gardner, John
Filiatrault, Celeste
Nelson, Crystal
Vitale, Maria
Holm, Heather
Description
---
Future Grizzlies Highlighted in High School Showdown ; THIS WEEK ; STAFF EDITORIAL In this non-stop society; take a moment and slow down ; Better late than never ; Longing for the Great Lakes state: An '07 OU grad; who recently relocated to Lake Tahoe; reminisces about Mich. ; Reload the Second Amendment ; Professor fondly remembered: Students and staff recall personal memories of OU art history professor John Cameron after his recent death at age 76 ; Professors take at turn at the OUAG ; Faculty creations showcased in 'Image and Text' at the OU Art Gallery ; AT THE POLES ; Two teams 'TAF out of contest ; Belafonte to speak at Keeper of the Dream: Annual ceremony honors students committed to promoting diversity appreciation ; VIOLINIST REGINA CARTER PERFORMS IMPROV SET AFTER INTERVIEW ON CAMPUS ; POLICE FILES ; A mile in someone else's shoes: Bridging the disability attitude barrier takes effort; communication ; Shedding light on seasonal depression ; Some have more to cope with in winter than just the dreary weather ; Hello Mr. President can we talk? ; If you could meet any president; dead or alive; who would it be and why? ; What's your favorite American tradition? ; Romney takes Michigan: Clinton uncontested by other top Democrats ; Auto Show features technology; politics ; Community access channels stay put; judges rule ; THE FUTURE IS BRIGHT: Two OU recruits meet on the high school hardwood ; OU beats ORU in revenge game ; No mercy for visiting Ladies ; Golden Grizzlies pound Centenary; 93-43; stand at first place in conference ; Hitting the mat: Wrestling club back in action after three-year absence ; Panish; Worrell lead OU hockey to win ; Shot out of the sky ; Battered Grizzlies fall to Golden Eagles; 66-60 ; Gentlemen no match for Grizzlies ; Thrilling 'Orphanage': REVIEW ; Fast fourward: 'One Tree Hill' skips the college years in fifth season ; Don't pick up the phone; this is a 'Call' worth missing ; Get inside a comics mind ; Become a lifesaver and explore 'New Blood' ; The great wall of man-hate: Can you believe what is posted on the wall in Vandenberg Hall? ; Hungover from the holidays ; Violence for sale in Kenya ; Amputee ruled ineligible for 2008 Olympics ; Nation World News Briefs ; Guantanamo Bay protests ; Guilty plea expected in body parts case
Date
---
2008-01-16
Subject
---
Cameron, John
Oakland University Art Gallery
Belafonte, Harry, 1927-
Keeper of the Dream awards
Rights
---
Users assume all responsibility for questions of copyright, invasion of privacy, and rights of publicity that may arise in using reproductions from the library's collections.
Collections
---