The Oakland Sail 1978-10-09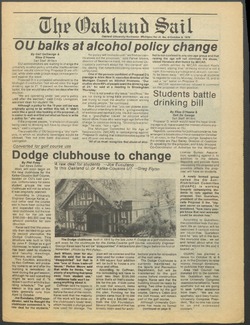 Author
---
Contributor
---
Clausen, Mark
Foley, Philip
Morrison, Pat
Alderman, Stuart
Spears, John
Ross, Dave
Briggs-Bunting, Jane
Burkli-Bery, Christine A.
Calabro, Rose
Chlipala, Elizabeth
Czeizler, Shelly F.
Caligiuri, Mark
Derrick, Scott
DeFrancesco, Brian
D'Haene, Elise
DeGeorge, Gail
Dunstan, Jay
Fortier, Daryl C.
Gauthier, Mark
Ginsell, Suzie
Hoste, Bill
Henderson, Dick
Katz, Stephen
Kowalski, Diane
Lenart, Susan
Marshall, David
Moorhead, Ree
Mazzara, Nancy
McGerty, Maureen
Nietubyc, Renee
O'Grady, Robin
Oles, Stefanie
Pavia, Carolyn A.
Plaque, Michael J.
Quackenbush, Joseph
Runkle, Dana
Robinson, Dave
Sugar, Eric
Schelske, Don
Taylor, Janis Renee
Tupper, Darcy
Trumper, Marilyn S.
Williams, Brian A.
Whiting, Jo Ann
Wilhelm, Kurt
Description
---
OU balks at alcohol policy change ; Converted for golf course use Dodge clubhouse to change ; Students battle drinking bill ; No longer just 'black problems' Student group aids all minorities ; Advising plan never implemented ; Tax Proposals: 'Incredible Ramifications' for OU ; OU gains loan for married apts. ; AHC members to attend conference ; The Marshall Arts ; Sail Editorial: Drinking referendum unwise ; Faces In The Crowd ; Hands of time move inconsistently ; Last Week's Answer ; collegiate crossword: Sponsored by The Bookcenter and CIPO ; Speakers miss 'tea' ; Students Speak Out: Are you in favor of the proposed change in course structure from three to four credits? ; TO-GA! ; Face MSU - U-M this week Booters tie Lewis; demolish Eastern ; Refs needed for IM sports ; 'ReVitaleized' Pistons begin ; Lakers begin quest for IM basketball crown ; Wayne State breaks netters win streak ; Sports: Spikers net two victories ; Red Wings to face Blues ; MOVIN' OUT: A guide to off-campus events ; Concerts ; Film ; Theater ; Art ; Lectures ; Misc
Date
---
1978-10-09
Subject
---
Alcohol policy
Katke-Cousins Golf Course
Association of Black Students
Married housing complex
Rights
---
Users assume all responsibility for questions of copyright, invasion of privacy, and rights of publicity that may arise in using reproductions from the library's collections.
Collections
---