The Oakland Sail 1986-03-31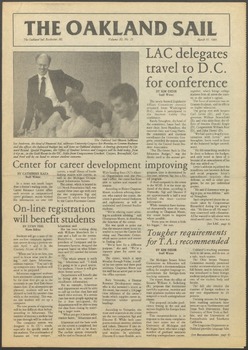 Author
---
Contributor
---
Lucius, Jill
Teel, Lynn
Hooper, Anne
Heller, Bruce
LeMieux, Sharon
Kaveloski, Kim
Diehr, Kim
Calabrese, Carla
Biondi, Paul
Meyers, Mark
Briggs-Bunting, Jane
Jones, Kenneth
Auchter, Hans Peter
Barone, Patrick
Beadle, Cathy
Bernard, Dale
Brown, Carolyn
Chiappetta, Nick
Childs, Chip
Drake, Bobbie
Dyke, Tim
Ezmerlian, Elizabeth
Jones, K. J.
Jordan, Mike
Kahler, Julie
Kaza, Catherine
Kocis, Maryanne
Kulpa, Kevin
Marine, Tim
Morga, Ann
Nass, Alisa
Pagnani, Steve
Pokoj, Renee
Raible, Robert
Rosenberg, Flori
Schlaud, Brenda
Serra, Grace
Uicker, Jim
Villet, Steven
Vitale, Cataleen
Wendland, Wendy
Andreski, Jeanine
Butzier, Pam
Campbell, Jerry
Castle, Laura
Easterly, Liz
Klope, Warren
Kurtycz, Eric
Loznak, Robin
Molnar, Gary
Smith, Kathy
Ursu, Mike
Winay, Greg
Description
---
LAC delegates travel to D.C. for conference ; Center for career development improving ; On-line registration will benefit students ; Tougher requirements for T.A.s recommended ; FEATURES: Tempers raging over name issue ; Favorite student pastimes include attending big parties and dating ; 'The Good Doctor' and 'On Your Toes' begin Local theaters offer sentimental productions ; Theater critic wins recognition in an award for writing talents
Date
---
1986-03-31
Subject
---
Oakland University. Student Congress
Oakland University. Career Services
Online
Registration
Name changes
Rights
---
Users assume all responsibility for questions of copyright, invasion of privacy, and rights of publicity that may arise in using reproductions from the library's collections.
Collections
---