The Oakland Post 2017-09-06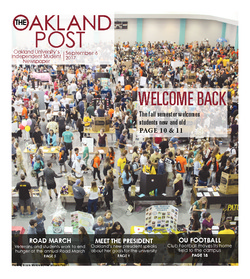 Author
---
Contributor
---
Tankersley, Shelby
Kramer, Cheyanne
Gregory, Elyse
Bozick, John
McNeely, Connor
Kraus, Laurel
Tolfree, Skylar
Albaugh, Simon
LaDuke, Katie
Miller, Christian
Hakeem, Falin
Siring, Mary
Tyle, Trevor
Milhailidis, Katerina
Dulapa, Darcy
Themm, Ariel
Kovac, Katarina
Layher, Sadie
Hirsch, AuJenee
Luttinen, Megan
Fuqua, Mina
Caccamo, Alexa
Mitchell, Mary
Morsfield, Nicole
Boggs, Samantha
Stinson, Taylor
Banner, Marcella
Description
---
Welcome Back: The fall semester welcomes students new and old ; Road March. Veterans and students work to end hunger at the annual Road March ; Meet the President. Oakland's new president speaks about her goals for the university ; OU Football. Club Football moves its home field to the campus ; Letter from the editor: It's going to be wild ; Life working for the student newspaper is never boring - there's something new every week. Stick with us throughout the year; because we can promise that it is going to be a good year to be a Postie ; Looking back: Nudes and immorality at Oakland: The Oakland Post was once known as one of the most radical and opinionated college papers in the 1960s. This is the story of "immoral" Golden Grizzly behavior - from grossing out the Vice President of the United States to performing nude in front of 50 peers. ; Student veterans prepare for third annual Road March ; WXOU builds community of listeners by appealing to wide audience ; Healthy living space; healthy life: An unclean room can be a trigger for stress and a distraction form studying ; "Board of Trustees welcomes School of Music; Theatre; and Dance" ; LGBTQIA+ resources on Oakland's campus: Centers and resources across campus aid LGBTQIA students; staff; and faculty ; Exclusive Greek honors society welcomes its first inductees ; How stylists are shifting the fashion industry: Celebrity designers are making their mark by popularizing new styles through social media ; Meet the president: Ora Hirsch Pescovitz: The Oakland Post sat down with President Pescovitz to talk about her first months ; Welcome Week Calendar ; OUCARES Pre-Employment skills training program for ASD adults ; Police Files: PNG Alert ; A "Bad habit of smoking cigars" ; Panty thief? ; Words of wisdom for freshmen ; How to survive your first day as a Golden Grizzly: Tips and tricks for new students to have a successful start to the school year ; Jury Duty: A millennial's perspective: Life Editor Laurel Kraus sees jury duty as a privilege; not a pain in the neck ; Political Focus: North Korea at it again: Crisis continues after Kim Jung Un reveals North Korea's newest toy ; Powerful film focuses on dangers of social media ; The VMAs: Has the entertainment industry been corrupted by politics? ; Army veteran steps down from men's basketball: Isaiah Brock leaves OU athletics to focus on his studies ; Football Club moves to main campus: A dream come true for OU Club Football ; Oakland University Club Sports 2017-2018: An introduction to all the club sports OU has to offer ; Get involved in intramural sports at OU: IM participants are able to create camaraderie; build community and get exercise ; Joe arpaio is a vampire that feeds on Mexican (AKA Tlahuelpuchi): An Arizona Tent City? Lack of Adequate Living Conditions? Bite Marks on Latinos?
Date
---
2017-09-06
Subject
---
Elbinger, Lee
Huber, Robert J., 1922-2001
Veterans
Oakland University. Student Organizations. WXOU
Oakland University. College of Arts and Sciences. School of Music, Theatre and Dance
Health
LGBTQ
Greek letter societies
Fashion
Pescovitz, Ora Hirsch
Welcome Week
Autism
Rights
---
Users assume all responsibility for questions of copyright, invasion of privacy, and rights of publicity that may arise in using reproductions from the library's collections.
Collections
---