The Oakland Post 2014-04-16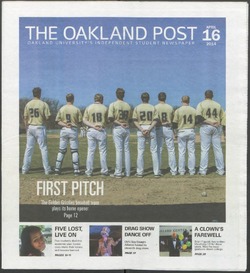 Author
---
Contributor
---
Wolchek, Scott
Kean, Kaylee
Goodin-Smith, Oona
Pontzer, Timothy
Alsko, Jake
Mathias, Kailee
DeRees, Ali
Cesefske, David
Kujawski, Adam
Wernette, Andrew
Saulino, Matt
Gilbert, Jackson
Schlenner, Sam
Pulis, Michael
Polovina, Marko
Robinson, Cyndia
Kotwicki, Haley
Figurski, Brian
Moulden, Rachel
Soltman, Josh
Miner, Deleon
Georges, Salwan
Johnson, Kailey
Ferdinande, Michael
Jappaya, Robert
Lepkowski, Frank J.
Wanagat, Kalle
Higdon, Nigel
Description
---
FIRST PITCH ; this week PHOTO OF THE WEEK ; Perspectives STAFF EDITORIAL Letter from the editor: How you are our most important reader ; Perspectives EDITORIAL New OUSC position up for approval: Upcoming president looks to appoint environmental; health and wellness director ; Goodbyes from Post graduates ; Campus Helping students pave a path ; OU Alumni Association matches students to mentors ; Alumn wants to bring a new view to U.S. Congress ; Jeremy Burgess says he will fund more educational programs ; Campus Breathing deep and keeping calm ; Students use the last week before finals to de-stress and share their secrets and techniques ; POLICE ; Grizzlies on the Prowl: "How do you relax during exam week?" ; Campus Globe-trotting Grizzlies gather knowledge: Number of students studying abroad doubles at Oakland ; Campus OUSC pushes Golden Grizzlies to go green ; OUSC to hire environmental; health; and wellness director ; Campus Mascots put the 'tail' in OUSC tailgate party: Men's baseball home opener kicks off with a tailgate featuring good food; roaming mascots and fun ; Five lives; infinite lessons ; Sports Hung up to dry ; OU baseball team loses opening home series; 2-1 ; Sports Kisman discusses success ; Softball player talks expectations; pressure and returning home ; Are you ready for some football?: Oakland University Football Club gears up for second season on the gridiron ; Sports Spring has sprung; so has the scrum ; OU's rugby club discusses teamwork; getting involved and fearsome competition ; THE SPORTING BLITZ ; Life Future vision of the arts: Senior Thesis in Graphic Design and Studio Art Exhibition awes ; A helping hand to kids in need ; Student spends time raising money to help feed malnourished kids worldwide ; Life OU alum examines the impact of life's major stepping stones ; Former student speaks about transitions of life ; life KINGS AND QUEENS TAKE THE STAGE ; Oakland students and performers star in GSA drag show ; Puzzles ; Scuba Suit Hero Saves Sebring ; Meet the man who trudged into Bear Lake's icy waters ; Mouthing Off SATIRE Clowning around is Serious business
Date
---
2014-04-16
Subject
---
Mentoring
Study abroad
Environment
Memorials
Art
Awards
Gay Straight Alliance
Beer Lake
Bear Lake
Rights
---
Users assume all responsibility for questions of copyright, invasion of privacy, and rights of publicity that may arise in using reproductions from the library's collections.
Collections
---