The Oakland Post 2014-03-26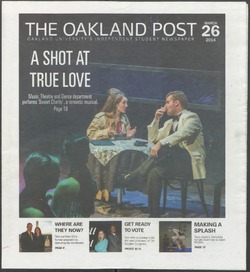 Author
---
Contributor
---
Wolchek, Scott
Kean, Kaylee
Goodin-Smith, Oona
Pontzer, Timothy
Alsko, Jake
Mathias, Kailee
DeRees, Ali
Cesefske, David
Kujawski, Adam
Wernette, Andrew
Saulino, Matt
Gilbert, Jackson
Schlenner, Sam
Pulis, Michael
Polovina, Marko
Robinson, Cyndia
Kotwicki, Haley
Figurski, Brian
Moulden, Rachel
Soltman, Josh
Miner, Deleon
Georges, Salwan
Johnson, Kailey
Ferdinande, Michael
Jappaya, Robert
Lepkowski, Frank J.
Wanagat, Kalle
Higdon, Nigel
Description
---
A Shot at True Love ; PHOTO OF THE WEEK ; POLL OF THE WEEK ; LAST WEEK'S POLL ; Perspectives STAFF EDITORIAL OU couples get legally married; court stops recognizing it ; Campus Hanna prepares path for the next OUSC president ; OUSC revisions cause unrest ; Campus OU alumni is honored for theatrical triumphs: Esau Pritchett wins the MaTilDa Award for Alumni Achievement ; Campus Brace yourself: Here comes registration ; Undergraduates can begin to sign up for Summer I; Summer II and fall classes ; Grizzlies on the Prowl: "Who is Brandon Hanna?" (He is the current Student Body President of OU Student Congress) ; POLICE FILES: UPDATE: Theft of keys ; Campus Oakland comes alive with the sound of music: Evola Music-sponsored piano sale provides visitors with opportunity to purchase used instruments ; Campus OU alum wins recognition as science adviser for 'Gravity': Kevin Grazier talks about his work in sci-fi Hollywood ; Campus Former OU President retires in Sioux Falls: Gary Russi spends retirement as Chief of Staff of Celebrate Church ; Mitchell Bergel Student Body; President & Vice President ; IMfo ; YOUR VOICE; YOUR EXPERIENCE; YOUR HOME ELIS LAUX For President & Vice-President VOTE MARCH 24-27 ; Sports Oakland men's soccer duels in spring doubleheader ; Golden Grizzlies fall to Notre Dame 2-1; then tie Xavier 1-1 ; Sports Grant makes a splash: OU junior Tricia Grant is Grizzlies' first female swimmer to reach NCAAs ; Sports Sport science: the physics of NASCAR: Physics professor gives alternative perspective on NASCAR ; Assistant coaches announce departure ; Athletic trainers: the unsung heroes: Oakland athletic trainers provide student-athletes with the care and treatment needed for success ; Life Sleuthing students solve long-ago criminal cases: Oakland University Writing Center hosts Murder Mystery Night ; Life 'They say it's your birthday': WXOU celebrates 48 years of broadcast magic ; Life Focus as clear as glass ; Students of School of Business Administration create Google Glass apps for April competition ; Puzzles ; Life Spend a little time with me: Sweet Charity tells the story of a woman on a quest for love ; Mouthing Off SATIRE Not your momma's breakfast burrito
Date
---
2014-03-26
Subject
---
Oakland University. College of Arts and Sciences. School of Music, Theatre and Dance
Oakland University. Student Congress
Elections
Pritchett, Esau
MaTilDa awards
Registration
Russi, Gary
Oakland University. The Writing Center
Oakland University. Student Organizations. WXOU
Google Glass
Rights
---
Users assume all responsibility for questions of copyright, invasion of privacy, and rights of publicity that may arise in using reproductions from the library's collections.
Collections
---
Related items
Showing items related by title, author, creator and subject.
Oakland Sail, Inc.

(

Oakland Sail, Inc.

,

2002-10-25

)

Metro Detroit job Search: Find a better career in your own backyard

Oakland Sail, Inc.

(

Oakland Sail, Inc.

,

2002-11-08

)

Metro Detroit job Search: Find a better career in your own backyard

Oakland Sail, Inc.

(

Oakland Sail, Inc.

,

2002-11-01

)

Metro Detroit job Search: Find a better career in your own backyard