The Oakland Post 2013-10-16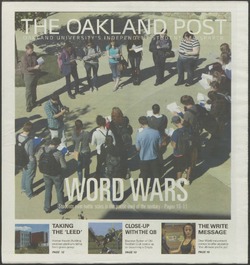 Author
---
Contributor
---
Wolchek, Scott
Johnston, Brian
Craw, Victoria
Alsko, Jake
Mathias, Kailee
Peralta, Chris
Brown, LeeAnn
DeRees, Ali
Cesefske, David
Winkler, Katie
Kean, Kaylee
Saulino, Matt
Searle, Ellen
Marinova, Nadia
Parchell, Alexis
Kotwicki, Haley
Popovski, Natalie
Figurski, Brian
Moulden, Rachel
Miner, Deleon
Davis, Jon
Georges, Salwan
Johnson, Kailey
Lepkowski, Frank J.
Lafountain, Luke
Lepper, Kelsey
Rolstone, Jessah
Nolan, Kelsey
Williams, Blake
Owens, Katrina
Description
---
Word Wars ; on the web ; POLL OF THE WEEK ; LAST WEEK'S POLL ; THIS WEEK IN HISTORY ; PHOTO OF THE WEEK ; Perspectives STAFF EDITORIAL If Congress won't do their jobs; fire them ; Perspectives EDITORIAL Kresge offers up not-so-trivial pursuit: Mystery librarian challenges students - can you stump the Kresge crew? ; Active Minds reaches out to students ; Group to hold meeting to help students with mental health issues ; Campus Silence policy questioned ; ACLU to OU: Lift gag order on student-athletes ; Grizzlies on the Prowl: What do you think about Sweetest Day? ; POLICE: Female stalked on campus ; Campus NO "OPTIONS" LEFT FOR STUDENTS ; Administration asked to consider revival of inclusive special needs program ; Campus OUSC: Plans for OC expansion brought to table: Other future projects could include bookstore; theater moved to the upper level of the building ; Campus Finnegan's invites students to dine ; New restaurant near golf course is ready for Grizzlies to enjoy fine food on campus ; WAR OF THE WORDS ; Campus U.S. Green Building Council awards LEED Platinum to OU ; Sports Getting to know Grizzly QB Brandon Tucker ; Sports Standing along the horizon ; Women tally second Horizon league win of the season ; Drawing near the end: OU fights into two overtimes for a 1-1 tie to Denver ; MEN'S UPCOMING SOCCER SCHEDULE ; Life Meet; race; read: events schedule for week ahead ; Life OU Career Link creates opportunities; frustrations for students ; Puzzles ; Cartoons OAKLAND POST PETE ; Life The ultimate profile picture: Students share personal messages of inspiration at Dear World event ; Mouthing Off SATIRE
Date
---
2013-10-16
Subject
---
Poetry
Mental health
Francis, Beckie
Diversity
Inclusion
Fialka-Feldman, Micah
Oakland Center
R & S Sharf Golf Course
Environment
Energy use
Careers
Student activities
Rights
---
Users assume all responsibility for questions of copyright, invasion of privacy, and rights of publicity that may arise in using reproductions from the library's collections.
Collections
---