The Oakland Post 2013-10-09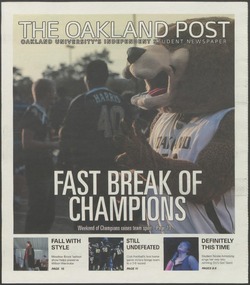 Author
---
Contributor
---
Wolchek, Scott
Johnston, Brian
Craw, Victoria
Alsko, Jake
Mathias, Kailee
Peralta, Chris
Brown, LeeAnn
DeRees, Ali
Cesefske, David
Winkler, Katie
Kean, Kaylee
Saulino, Matt
Searle, Ellen
Marinova, Nadia
Vitale, Nick
Kotwicki, Haley
Popovski, Natalie
Figurski, Brian
Moulden, Rachel
Miner, Deleon
Davis, Jon
Georges, Salwan
Johnson, Kailey
Lepkowski, Frank J.
Lafountain, Luke
Lepper, Kelsey
Rolstone, Jessah
Nolan, Kelsey
Williams, Blake
Owens, Katrina
Description
---
FAST BREAK OF CHAMPIONS ; this week PHOTO OF THE WEEK ; Perspectives STAFF EDITORIAL Purchasing health insurance early has its perks ; Perspectives LETTER TO THE EDITOR Oakland Post: Do not get scammed: The current government shutdown is a "Democratic mess" ; Campus Trustees approve Varner project: Proposals approved for presidential search committee; power supply ; OU Student Congress does not shut down: While the U.S. Congress is closed; student legistators and committee members are hired ; Campus Upcoming panel will answer questions about medical school: Student org invites leaders to share insights about the application process ; Grizzlies on the Prowl: dates on-campus ; Campus What's in your office: Patricia Wren ; Asssociate professor; program director brightens office with bobbleheads; collectibles ; Voices of Oakland ; Sports WEEKEND OF CHAMPIONS: WOCOU kicks off sports events with a tailgate ; Sports Undefeated since 1957 ; Grizzlies win first home game 36-26 ; Soccer team scores victory over UDM ; Life OU welcomes new clubs ; Over 20 new social clubs join the roster for Oakland students to enjoy ; Life Shaping things up: Grizzfit club aims to help students build muscle; friendship ; Cartoons & Puzzles ; SUDOKU ; Life Raising funds; raising hope ; Meadow Brook Hall event strives to preserve historical pieces ; Mouthing Off SATIRE Vending out miseries
Date
---
2013-10-09
Subject
---
Weekend of Champions
Oakland University. Board of Trustees
Oakland University. Student Congress
Presidential searches
Oakland University. William Beaumont School of Medicine
Wren, Patricia
Oakland University. School of Health Sciences
Talent shows
Oakland University. Student Organizations
Wilson, Matilda Rausch Dodge, 1883-1967
Fashion
Meadow Brook Hall
Fund-raising
Rights
---
Users assume all responsibility for questions of copyright, invasion of privacy, and rights of publicity that may arise in using reproductions from the library's collections.
Collections
---
Related items
Showing items related by title, author, creator and subject.
Drummond, Lisa

;

Long, Meredith

;

O'Berski, Shannon

(

2010-10-01

)

Drummond, Lisa

;

Rzadkowolski, Madelyn

(

2011-01-01

)

Drummond, Lisa

;

Rzadkowolski, Madelyn

;

O'Berski, Shannon

(

2013-04-01

)