The Oakland Post 1990-02-05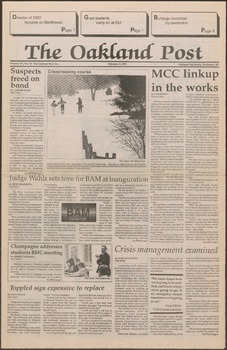 Author
---
Contributor
---
Zito, Carol
O'Brien, Margaret
Michael, Michelle
Moraniec, Marc
Voytas, Tom
Villarosa-Bolton, Lorelei
Simmons, Donna
Stock, Karen
Sears, Tammie
Chiappetta, Nick
Vanderbeke, Patricia
Abraam, Christine
Basham, Matthew
Boone, Kelly
DeBrincat, Gina
Forslund, Bev
Green, Kyle
Goetz, Sharon
Gorski, Wendy
Hogg, David
Johnson, Carolyn
Johnson, Heidi
Koch, Kathryn
Lewis, Derrick
Pelletier, P.J.
Pomaville, Kathy
Rosseel, Yvonne
Schwark, Candi
Sears, Tammie
Sherlock, Rebecca
Spencer, Sallee
Sturza, Mary Jo
Taff, Timothy
Taylor, Lisa
Whitcher, Jeff
Surowiec, James
Description
---
Suspects freed on bond ; Crisscrossing course ; Judge Wahls sets tone for BAM at inauguration ; Champagne addresses students RHC meeting ; Toppled sign expensive to replace ; MCC linkup in the works ; Crisis management examined ; News Briefs WOUX nearer to FM goal ; Three round fight at Anibal House ; How will OU fare in 2000? ; Evolution of a University ; Viewpoints Administrative rudeness often too much to take ; Many students need lesson in classroom etiquette ; Letter to the Editor Development out of hand when species near extinction ; Advanced degrees favorable ; DSO director delivers Beethoven lecture ; Donner Party debuts after 20-year hibernation ; Q: How much of your life depends on horoscopes? ; Quayle kollege ; What's Happening ; Lepley lacking ; Swim teams bury Bulldogs: Kelsey sets diving record in victory over Ferris St. ; Pioneer divers star in impressive win over GLIAC rival ; Women hoopsters drop first league game in two years ; Hockey champs too sweet in final ; Men fall from top of GLIAC after loss to Lakers 98-81 ; A learning loss
Date
---
1990-02-05
Subject
---
Macomb Community College
Oakland University. Macomb County Education Sites
Black Awareness Month
Crisis management
Graduate study
Herbig, Gunther, 1931-
Extension sites
Macomb satellite campus
Rights
---
Users assume all responsibility for questions of copyright, invasion of privacy, and rights of publicity that may arise in using reproductions from the library's collections.
Collections
---