The Oakland Post 2013-03-13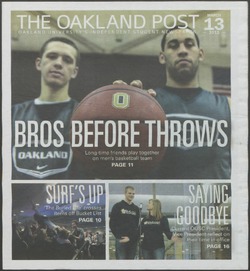 Author
---
Contributor
---
Seguin, Nichole
LaTorre, Clare
Popovski, Natalie
Beaver, Lindsay
Sokol, Stephanie
Williams, Katie
Johnston, Brian
Figurski, Brian
Kotwicki, Haley
Petrykowski, Andrew
Smith, Amelia
Coppola, Lisa
Lepper, Kelsey
Williams, Blake
Holychuk, Jennifer
Murray, Brian
Dulberg, Dylan
Lepkowski, Frank J.
Lee, Lex
Mathias, Kailee
Reed, Jordan
Coughlin, Shannon
Graham, Kevin
Ibrahim, Irum
Jordan, Allen
Phelan, Katie
Reid, Lilly
Brooks, Bobby
Davis, Jon
Mohler, Ashley
Novak, Monica
Peralta, Chris
Description
---
Bros before throws: Long-time friends play together on men's basketball team ; on the web ; PHOTO OF THE WEEK ; POLL OF THE WEEK ; LAST WEEK'S POLL ; THIS WEEK IN HISTORY ; Perspectives STAFF EDITORIAL Be informed for OUSC Presidential elections ; Perspectives COLUMN To make it brief: Vote in the elections ; Perspectives EDITORIAL Leave the wolves for Little Red Riding Hood ; Campus Fighting for your vote: Student Congress holds presidential debate ; POLICE FILES: Fight reported in student's home ; Campus Campus hosts second annual SOGI conference ; Campus Sowing the 'Seeds of Hope': Primatologist; anthropologist; conversationalist Dr. Jane Goodall to speak on campus; to discuss Gombe chimpanizees ; Campus Perfect harmony: New Glee Club makes its way to campus ; Campus Check that off the bucket list: Cast of MTV's 'The Buried Life' speaks on campus ; Sports BOND NOT TO BE BROKEN: Senior players reflect on their time together ; Sports Bad news bears: Basketball teams fall during first round of Summit League ; Sports THE SPORTING BLITZ ; Local These cupcakes rock: Rochester Hills' music-inspired bakery competes in 'Cupcake Wars' ; Local Runners get lucky in Utica: Runners race for St. Patrick's Day ; Life OUSC Reflections ; Wolf; Williford reflect on their administration; offer advice for successors ; Life New man behind the brand ; John Young named Associate Vice President of Communication and Marketing ; Life Sorry; he can't come to the phone: Theatre department to premiers 'Dead Man's Cell Phone' ; Puzzles ; Mouthing Off Thank you for bullying ; What we go through as kids gives us perspective for today ; Living with an addiction: When a night with Netflix quickly goes from '1 more episode' to 7
Date
---
2013-03-13
Subject
---
Oakland University. Student Congress
Elections
LGBTQ
Goodall, Jane, 1934-
Glee Club
Student athletes
Oakland University. Communications and Marketing. Services
Rights
---
Users assume all responsibility for questions of copyright, invasion of privacy, and rights of publicity that may arise in using reproductions from the library's collections.
Collections
---