The Oakland Post 2013-02-27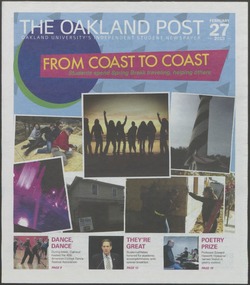 Author
---
Contributor
---
Seguin, Nichole
LaTorre, Clare
Popovski, Natalie
Beaver, Lindsay
Sokol, Stephanie
Williams, Katie
Johnston, Brian
Figurski, Brian
Kotwicki, Haley
Petrykowski, Andrew
Thomas, Devin
Coppola, Lisa
Lepper, Kelsey
Williams, Blake
Holychuk, Jennifer
Dulberg, Dylan
Lepkowski, Frank J.
Lee, Lex
Mayhand, Misha
Reed, Jordan
Coughlin, Shannon
Graham, Kevin
Blanchette, Sarah
Ibrahim, Irum
Jordan, Allen
Pontzer, Tim
Brooks, Bobby
Davis, Jon
Mohler, Ashley
Novak, Monica
Peralta, Chris
Phelan, Kaitlyn
Description
---
FROM COAST TO COAST: Students spend Spring Break traveling; helping others ; this week PHOTO OF THE WEEK ; Perspectives STAFF EDITORIAL Eating disorders are not a laughing matter ; Perspectives EDITORIAL Graduating with honors; not family ; Spring Commencement ticket changes create challenges for graduating students ; COLUMN Leading with authenticity ; Campus The beginning to the ballots ; OUSC hosts elections kickoff event to discuss candidates' platforms ; Search for new provost coming to a close ; POLICE FILES ; Campus On the prowl: Hunt continues for the next permanent dean of the College of Arts and Sciences ; Campus On your mark; set set; write ; American Association of University Women to sponsor essay contest for students ; Campus Piecing together the puzzle ; Oakland hosts its first Autism Summit ; Campus Dancing for days ; East-Central Conference makes its way to campus; 400 students in attendance ; Sports Breakfast; of Champions ; Student-athletes honored for commitment inside the classroom ; Sports Sticks and Strikes ; Women's lacrosse to host bowling fundraiser to raise money for team ; Arts THE SPORTING BLITZ ; WEEKLY CROSSWORD ; Local totting inked in Motor Citv ; Local Community garden blossoming in Rochester ; New garden in the works for Rochester residents ; Life Professor prose best ; Professor named finalist for $100,000 Kingsley Tufts poetry award ; Life Grizzly gratis named elite '40 Under 40' ; Alumni recognized by L. Brooks Patterson for career success; community outreach ; Mouthing Off A not so deep-seated issue: A growing school suffering with the wrong fit
Date
---
2013-02-27
Subject
---
Oakland University. Student Congress
Elections
Oakland University. Office of the Provost
Oakland University. College of Arts and Sciences
Women
Autism
Dance
Spring break
Poetry
Hoeppner, Edward Haworth
Alumni
Awards
Rights
---
Users assume all responsibility for questions of copyright, invasion of privacy, and rights of publicity that may arise in using reproductions from the library's collections.
Collections
---
Related items
Showing items related by title, author, creator and subject.
Oakland Sail, Inc.

(

Oakland Sail, Inc.

,

2002-10-25

)

Metro Detroit job Search: Find a better career in your own backyard

Oakland Sail, Inc.

(

Oakland Sail, Inc.

,

2002-11-08

)

Metro Detroit job Search: Find a better career in your own backyard

Oakland Sail, Inc.

(

Oakland Sail, Inc.

,

2002-11-01

)

Metro Detroit job Search: Find a better career in your own backyard