The Oakland Post 2013-01-24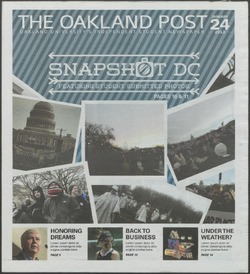 Author
---
Contributor
---
Seguin, Nichole
LaTorre, Clare
Popovski, Natalie
Sokol, Stephanie
Williams, Katie
Johnston, Brian
Figurski, Brian
Kotwicki, Haley
Petrykowski, Andrew
Thomas, Devin
Coppola, Lisa
Holychuk, Jennifer
Dulberg, Dylan
Lepkowski, Frank J.
Lee, Lex
Mayhand, Misha
Reed, Jordan
Coughlin, Shannon
Graham, Kevin
Blanchette, Sarah
Jordan, Allen
Prewada, Stephanie
Brooks, Bobby
Davis, Jon
Mathias, Kailee
Mohler, Ashley
Peralta, Chris
Phelan, Kaitlyn
Reid, Lilly
Description
---
Snapshot D.C. BY THE NUMBERS HEALTH INSURANCE ; Perspectives STAFF EDITORIAL Enough to make you sick ; Perspectives COLUMN Make a difference: Run for president; VP; legislator ; Campus Keeping the dream alive ; Gov. Rick Snyder; Daymond John speak at scholarship celebration ; Campus Testing the system: Green features of Human Health Building currently going through adjustment period to determine progress ; POLICE BRIEFS: Student contacted by inmate ; Campus Proposal to make Greek life directly funded on the table ; Campus Student Organic Farming Program receives $20,400 grant ; Campus Cruising right up to tire COBO Center: Students display car at this year's Auto Show ; SNAPSHOT DC: FEATURING STUDENT SUBMITTED PHOTOS ; Sports Catching lightning in a bottle: Erika Polidori looks to repeat her success from last season ; Sports The leading lady of lacrosse: Desiree Messina was voted 2013 Preseason Player of the Year ; Local Look what flu into Michigan: Nationwide flu outbreak spreads through southeast side of the mitten ; TREATING THE FLU ; Local A real-life 'Brady Bunch' story: Couple shares story of love and loss to help others cope ; CREATING CRESCENDOS: Freshman performs the works of favorite composer; receives Appleton Fund ; WHAT'S IN YOUR OFFICE? THAYER JONUTZ ; WEEKLY PUZZLES ; Mouthing Off This one's for Steve Kneeve: We can all learn a lesson from Manti Te'o - or at least try to
Date
---
2013-01-24
Subject
---
John, Daymond
Snyder, Rick, 1958-
Keeper of the Dream awards
Martin Luther King Jr. Day observance
Environment
Human Health Building
Greek letter societies
Student Organic Farm
Influenza
Rights
---
Users assume all responsibility for questions of copyright, invasion of privacy, and rights of publicity that may arise in using reproductions from the library's collections.
Collections
---