The Oakland Post 2012-11-14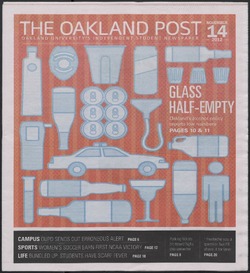 Author
---
Contributor
---
Seguin, Nichole
LaTorre, Clare
Popovski, Natalie
Dennis, Damien
McMillan, Mark
Colman, Justin
Figurski, Brian
Johnston, Brian
Kotwicki, Haley
Petrykowski, Andrew
Dulberg, Dylan
Lepkowski, Frank J.
Pensola, Katelyn
Kuchlbauer, Olivia
Coughlin, Shannon
Lee, Lex
Mayhand, Misha
Sokol, Stephanie
Reed, Jordan
Graham, Kevin
Holychuk, Jennifer
Pontzer, Tim
Williams, Katie
Blanchette, Sarah
Kroetsch, Lauren
Prewada, Stephanie
Beaver, Lindsay
Brooks, Bobby
Davis, Jon
Jordan, Allen
Reid, Lilly
Description
---
Glass Half-Empty ; BY THE NUMBERS SMOKING ; this week ; LIGHTS! CAMERA! ACTION! ; Perspectives STAFF EDITORIAL Crying wolf: OUPD's alert system erroneously reports 'shots fired' ; Perspectives COLUMN OUSC extends open invitation ; EDITORIAL Start taking action on student debt ; Perspectives EDITORIAL Your voice needed for large-scale university proposals; initiatives ; Campus ; Technical glitch causes incorrect OUPD alert ; Campus Overbooked First Year Advising Center rumors are untrue ; Individual advising sessions still offered ; New media minor to be offered in 2013 fall semester ; POLICE FILES: Faculty member receives harassing phone calls ; Campus In-state tuition granted to veterans; Ohio residents ; VETERANS BENEFITS ; Campus Paying full ticket price: Understanding on-campus parking violations; repercussions ; KNOWING THEIR LIMITS: Oakland keeps MIP arrests below the norm ; Sports Grizzlies topple No. 4 Buckeyes in tourney: Oakland earns its first NCAA tournament victory over Ohio State in 3-1 shootout Saturday ; Sports Despite injury; Watterworth leads ; Women's basketball star misses start to the 2012-13 season; but looks to make impact on return ; Sports Grizzlies on the gridiron ; Potential club football team coming to Oakland ; Local Closing the distance to Detroit ; Go Radio tours on Billboard chart-topping new album ; Local POLICE BRIEFS: Dog stabbing in Pontiac ; Life Searing the competition ; Chartwells chef wins gold medal at Culinary Olympic ; wraps: Under Scarves in season ; Puzzles: Mouthing Off SATIRE ; SATIRE WEEKLY TOP 10
Date
---
2012-11-14
Subject
---
Alcohol policy
Oakland University Police Department
Smoking policy
Oakland University. First Year Advising Center
Veterans
Parking
Women's soccer
National championships
Fashion
Food
Rights
---
Users assume all responsibility for questions of copyright, invasion of privacy, and rights of publicity that may arise in using reproductions from the library's collections.
Collections
---