The Oakland Post 2012-10-10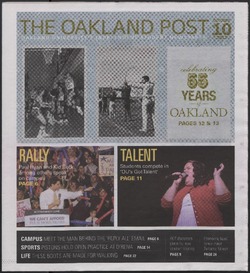 Author
---
Contributor
---
Seguin, Nichole
Lauritsen, Chris
Prewada, Steph
Popovski, Natalie
Dennis, Damien
McMillan, Mark
LaTorre, Clare
Colman, Justin
Figurski, Brian
Johnston, Brian
Kotwicki, Haley
Thomas, Devin
Harris, Krystal
Coppola, Lisa
Dulberg, Dylan
Lepkowski, Frank J.
Pensola, Katelyn
Kuchlbauer, Olivia
Litynskyj, Sonia
Coughlin, Shannon
Lee, Lex
Mayhand, Misha
Sokol, Stephanie
Reed, Jordan
Graham, Kevin
Holychuk, Jennifer
Pontzer, Tim
Williams, Katie
Blanchette, Sarah
Kroetsch, Lauren
Jabro, Constance
Jordan, Allen
Kujawski, Adam
Matti, Nicole
Reid, Lillian
Sells, Hannah
Description
---
Celebrating 55 Years of Oakland ; Rally ; Talent ; THIS WEEK IN HISTORY ; Happy 55th birthday Oakland - now get to work ; Pay attention while walking around campus ; The OUSC mission ; That's it - I've had enough of the GOP ; Campus MORE ONLINE: See oaklandpostonline.com for the full story on Seth Jones email ; Romney campaign holds Victory Rally ; Republican vice presidential candidate visits campus ; Intentional 'waste of time' ; Campus Larceny reported as largest issue on campus: Overall campus crime down in 2012 ; Campus Suicide prevention group receives $612,000 grant ; Money will be used to increase prevention and awareness efforts throughout campus; community ; Campus Math probation rumors untrue ; Board of Trustees discuss proposed housing; media arts center ; Campus Engineering Department breaks ground on $75 million building ; Dog eats marijuana brownies ; Campus MORE ONLINE The right note ; Students showcase their skills at this year's 'OU's Got Talent' ; CELEBRATING 55 YEARS OF HISTORY ; PISTONS TAKE O'RENA ; Detroit Pistons hold open practice on Oakland's home floor ; Soccer 3-0 in Summit League: Oakland wins back-to-back home matches ; Sports A WEIRD KIND OF SUCCESS ; Scott Messer looks to inspire and bond his team together ; Hockey suffers first loss ; Local College housing under way in Pontiac: Downtown Pontiac housing development targets students ; Not just 'shock and gore': Historic village bases Halloween celebration on history rather than scare tactics ; Troy man Tasered after escaping police officers ; Life Less Z's equal lower GPA's ; Students battle with sleep deprivation ; Signs of humanity ; Theatre students work with professional deaf actors in Mich. premiere of Terp play ; BOOT ; It's tough out there - even for Big Bird
Date
---
2012-10-10
Subject
---
Romney, Mitt
Oakland University Police Department
Suicide
Oakland University. College of Arts and Sciences. Department of Mathematics and Statistics
Student housing
Engineering Building
Ground breaking
Talent shows
Oakland University History
Detroit Pistons
Sleep
Fashion
Deafness
Hearing impairments
Rights
---
Users assume all responsibility for questions of copyright, invasion of privacy, and rights of publicity that may arise in using reproductions from the library's collections.
Collections
---
Related items
Showing items related by title, author, creator and subject.
Oakland Sail, Inc.

(

Oakland Sail, Inc.

,

2002-10-25

)

Metro Detroit job Search: Find a better career in your own backyard

Oakland Sail, Inc.

(

Oakland Sail, Inc.

,

2002-11-08

)

Metro Detroit job Search: Find a better career in your own backyard

Oakland Sail, Inc.

(

Oakland Sail, Inc.

,

2002-11-01

)

Metro Detroit job Search: Find a better career in your own backyard