The Oakland Post 2012-02-15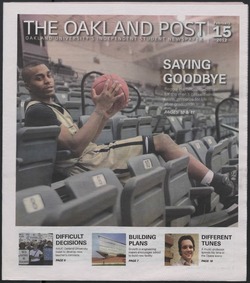 Author
---
Contributor
---
Seguin, Nichole
Semeraz, Megan
Hunton, Sarah
Prewada, Stephanie
Romanchik, Kevin
LaTorre, Clare
Armstrong, Ali
Colman, Justin
Loshaw, Madeline
Thomas, Devin
Haney, Brittany
Harris, Krystal
Yar, Daud
Karpinski, Cayce
Hoque, Rifath
Wirth, Nathan
Webb, Greg
Bistue, Chelsea
Coughlin, Shannon
Lee, Lex
Sokol, Stephanie
Reed, Jordan
Allison, Ashley
Figurski, Brian
Gonzalez, Jordan
Lauritsen, Chris
Pontzer, Tim
Claucherty, Emma
Dennis, Damien
Graham, Kevin
Everson, Bryan
Blanchette, Sarah
Mayhand, Misha
McLean, Jessica
Popovski, Natalie
Ritzenthaler, Rachel
Description
---
Saying Goodbye ; Difficult Decisions ; Building Plans ; Different Tunes ; this week ; PHOTO OF THE WEEK ; Perspectives STAFF EDITORIAL This page is for opinions - make yours known; too ; COLUMN Your voice. Heard. (Period) ; Campus Contract negotiations resume: The summer of 2012 brings teacher contract negotiations for Oakland ; POLICE BRIEFS Marijuana use in parking lot ; Campus Increase in engineering students leads to expansion ; Students for Life expresses opinions on rights through baby shower: Organization hosts pro-life baby shower to raise awareness of human rights issues ; Campus Educational Resource Lab to hold China workshop ; Instructors create connection between Oakland and China ; Campus Creating an organic; sustainable campus: Student organization encourages an organic and green campus ; 'Heart and Soul' ; Sports Moving upward ; Softball player; temporarily paralysed from surgery; determined to play again ; Sports THE SPORTING BLITZ Calhoun reaches 1000 in loss against IPFW ; Sports COLUMN Senior night is a night too special to miss Give it to me baby ; Local: Cupcake shop imports treats from local stores ; Local President Obama unveils plan to help keep college costs low: Proposed budget seeks to boost education spending ; Life The math behind disease: Professor applies mathematics expertise to Chagas and Cholera ; Life Operatic teachings: Professor brings opera to students ; WEEKLY CROSSWORD ; Mouthing Off SATIRE A moat? Why is Oakland University building a moat?
Date
---
2012-02-15
Subject
---
Campus development
Union contracts
Engineering Building
Educational Resource Lab
Environment
Mathematics
Health
Faculty
Oakland University. College of Arts and Sciences. School of Music, Theatre and Dance
Rights
---
Users assume all responsibility for questions of copyright, invasion of privacy, and rights of publicity that may arise in using reproductions from the library's collections.
Collections
---