The Oakland Post 2012-01-11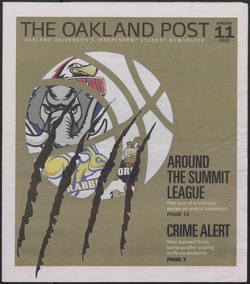 Author
---
Contributor
---
Seguin, Nichole
Semeraz, Megan
Hunton, Sarah
Prewada, Steph
Popovski, Natalie
Romanchik, Kevin
LaTorre, Clare
Armstrong, Ali
Andre, Ray
Gonzalez, Jordan
Pontzer, Tim
Dennis, Damien
Lauritsen, Chris
Allison, Ashley
Figurski, Brian
Reed, Jordan
Blanchette, Sarah
Mayhand, Misha
McLean, Jessica
Ratkowski, Eric
Everson, Bryan
Hoque, Rifath
Willis, Jason
Wirth, Nathan
Solemani, Sierra
Coughlin, Shannon
Bistue, Chelsea
Karpinski, Cayce
Colman, Justin
Loshaw, Madeline
Thomas, Devin
Haney, Brittany
Harris, Krystal
Yar, Daud
Description
---
Around the Summit League ; Crime Alert ; BY THE NUMBERS ; PHOTO OF THE WEEK ; STAFF EDITORIAL Focus more on students; less on creating buildings ; EDITORIAL Individual contributions can create pride in the university: Working towards building a campus community; one link at a time ; LETTERS TO THE EDITOR Eveslage-Malile administration is doing a great job with OUSC ; Have an opinion on something? ; EDITORIAL Why yes; my major is important - leave me alone ; Man banned from campus after brandishing knife at students ; Hiring in the experts: Potential faculty have long road to employment ; OU ranked 4th safest Michigan campus: OUPD keeps high ranking for college campus safety ; New program helps ISE grads ; Certificate program offers engineers helpful skills ; The history of ISE at OU ; POLICE BRIEFS: Students on the baseball team arrested at Hamlin Hall ; Faculty and students side-by-side research: Professors guide students through their own research ; Ghana study abroad program added to summer line-up ; Students given the chance to study African music ; College Democrats back in time for 2012 election ; CAMPUS BRIEFS: Agape ministry meeting ; Around the Summit League: A look at what happened and what is to come for the men's basketball team ; Decorating the city of Royal Oak: Royal Oak City Commission unanimously approves establishment of art commission ; Proposed Troy transit center creates controversy at City Council meeting: Revised proposal for transit center dominates meeting ; Student volunteers cross borders: Medical Brigade offers help to over 600 patients in Honduras ; Making music child's play: Dept. of music; theater and dance hosts events to attract potential students ; Film adaptation sells story short: Student review - The Girl With the Dragon Tattoo ; SATIRE Can I get a redo on that resolution?
Date
---
2012-01-11
Subject
---
Faculty
Oakland University Police Department
Engineering
Research
Study abroad
Medical Brigades
Oakland University. College of Arts and Sciences. School of Music, Theatre and Dance
High school
Rights
---
Users assume all responsibility for questions of copyright, invasion of privacy, and rights of publicity that may arise in using reproductions from the library's collections.
Collections
---