The Oakland Post 2010-09-01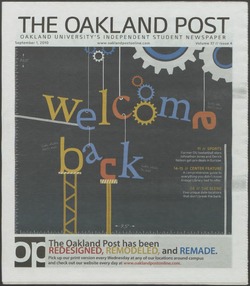 Author
---
Contributor
---
Nguyen, Kay
Sandula, Mike
Fenner, Dan
Willis, Jason
Chornoby, Kaitlyn
Bucciarelli, Jen
Maghielse, Ross
Stodola, Annie
Seguin, Nichole
Hagan, Chris
McCarty, Rory
Minnix, Shawn
Jacob, Katie
Yar, Daud
Culver, Bryan
Espejo, Mike
Socia, Brett
Butwin, Carla
Hegedus, Ryan
Eckardt, Amy
Gasper, Jamie
Meade, Amanda
Romanchik, Kevin
Thielen, Jake
Bauer, Kyle
O'Neill, John
Slazinski, Brad
Offenbacher, Dan
Kruse, Tanner
Klinkoski, Max
Benjamin, Amanda
Description
---
Center Feature: Perspectives ; STAFF EDITORIAL Something you really can afford ; The matching socks ; Arts, Beats, Eats Royal Oak ; Welcome back; Golden Grizzlies ; ON SECOND THOUGHT - Zero ground to be gained in NYC Islamic center debate ; GUEST COLUMN Please plan; be patient while construction ends ; Welcome Week kicks off: Campus organizations host free events for Oakland students ; Projects finish; more begin ; police files ; Skills Center adds new programs ; OU announces DSO partnership ; campus briefs ; New options for expensive books ; Leaving behind a legacy: Jones and Nelson continue their basketball careers in Europe ; Men's soccer ready for real competition ; Volleyball looking to reach next level ; Jeltema inks pro deal with team in Germany ; Capturing Kresge: WRITING CENTER ; Area residents remember Rochester back in the day ; local briefs ; Global News: ON SEPTEMBER 1 IN HISTORY ; Fed funding frozen: Judge halts stem cell ; Use caution on Craigslist ; Online habits may require extra attention ; 4.0 professor profiles Weekly spotlight on OU professor ; OUSC advisor takes on new role ; Dinners & movie: No more ; records & reels ; Construction run amok: Helping freshmen navigate OU's new labyrinthine campus ; Campus restoration or devious plot?
Date
---
2010-09-01
Subject
---
Construction
Welcome Week
Academic Skills Center
Detroit Symphony Orchestra
Textbooks
Kresge Library
Rochester history
Oakland University. The Tutoring Center
Rights
---
Users assume all responsibility for questions of copyright, invasion of privacy, and rights of publicity that may arise in using reproductions from the library's collections.
Collections
---