The Oakland Post 2010-02-03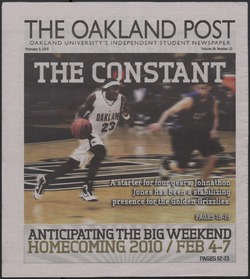 Author
---
Contributor
---
Miller, Colleen J.
Wolf, Katie
Fenner, Dan
Nguyen, Kay
Simons, Dan
Stodola, Annie
Tomrell, Alexis
Chornoby, Kaitlyn
Jacob, Katie
Jackman, Angela
Willis, Jason
Sandula, Mike
Hegedus, Ryan
Jaye, Gabrielle
McCarty, Rory
Rahman, Masudur
Hallman, Zach
Culver, Bryan
Bucciarelli, Jen
Bresnihan, Brigid
Douglas, Reanna
O'Shaughnessy, Christy
Minnix, Shawn
Gasper, Jamie
Ross, Crystal
Umbras, Courtney
Slazinski, Brad
Romanchik, Kevin
Wood, Jennifer
Field, Jillian
Lapanowski, Mallory
Lepper, Kelsey Elyse
Meade, Amanda
Nacy, David
St. Germain, Steve
Benjamin, Amanda
Description
---
The Constant ; Anticipating the Big Weekend: Homecoming 2010 ; THIS WEEK ; STAFF EDITORIAL State of our university?: Russi gets to 'the point' on progress; brewing issues ; Super Bowl advertising standards are super confusing ; Med school clears major hurdle ; Russi: 'We are on the cusp of true greatness' ; Special presentation given to OUSC: John Beaghan outlines plans for future construction; parking ; Campus competes to save lives ; POLICE FILES ; CAMPUS BRIEFS ; The Strangers rock for warmth: OU grads perform at Walk for Warmth in Auburn Hills ; More students decide to dual enroll to save money ; HOMECOMING; ARE YOU GOING? ; SUPERBOWL XLIV ATHLETES PICK ; GAME EVENTS ; Staff predictions ; Ferndale's muddy waters: Local blues festival returns for ninth year ; Post - apocalyptic entertainment: "The Book of Eli" and "The Road" MOVIE REVIEW ; Racking up school records: Point guard plays a steady hand as the Grizzlies' leader ; Scores from the road ; Men's basketball ; Protesters gear up for speech ; Local news briefs: reverting roads; heroin bust: Michigan continues turning paved roads to gravel ; Pres. Obama seeks $300M for clean up ; Defense Sec. seeks repeal of "Don't ask" ; Toyota stalled by pedal recalls ; N-W BRIEFS ; The log out freak out ; Reporter goes a week off Facebook to prove he's no addict ; "ipad " uSay? Well; iMad
Date
---
2010-02-03
Subject
---
Homecoming
Russi, Gary
Oakland University. William Beaumont School of Medicine
State of the University
Campus development
Student activities
Alumni
Community colleges
Social media
Addiction
Rights
---
Users assume all responsibility for questions of copyright, invasion of privacy, and rights of publicity that may arise in using reproductions from the library's collections.
Collections
---